Western State College of Law prides itself on creating a welcoming and collaborative community. This has allowed us to open our doors to many international students over the years.
In our most recent installment of "A Day in the Life" we had the privilege of connecting with Preston Amundson to learn more about what drew him to Western State and how he maximizes every minute of each day!
Q: Why were you interested in pursuing your JD?
Prior to law school, I worked for the Edmonton Oilers of the National Hockey League (NHL) in Edmonton, Alberta, Canada. I thoroughly enjoyed working in the sports and entertainment industry, and became interested in the legalities of the business. I felt that my strengths in writing and attention to detail would transition smoothly to life as an attorney. I believed that becoming a lawyer would help to create more opportunities for myself within the sports and entertainment industry. After graduating from Western State, I hope to practice as in-house counsel for a sports team or assume a role as an agent representing athletes.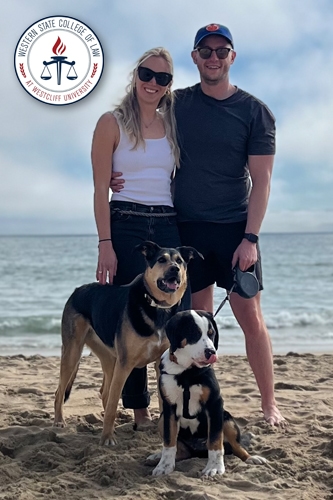 Q: Why did you decide to attend Western State?
I am originally from Edmonton, Alberta, Canada and often traveled with my girlfriend to Orange County to visit family. We fell in love with the area, and decided to pursue life in a warmer climate. When I was applying to Western State, the importance that the school places on its community stood out to me. I wanted to be in an environment that placed an emphasis on building relationships with one another, especially since I was new to the area. I've developed numerous friendships throughout the last three years thanks to the collaborative classroom environment.
Q: What class is your favorite and why?
My favorite class in law school is Criminal Procedure. With my primary interests being in sports and entertainment law, and business law in general, I did not think that Criminal Procedure would be my favorite class. The subject matter provides interesting real-world examples of how the law is applied within society. As a law student, it is much easier to complete the assigned readings when the cases you are reviewing are interesting!
Q: Any study tips or tricks that you've found useful?
One of the most important skills I developed over my law school career is memorization. For exams, it's important to give yourself a lot of time to memorize the applicable information for each subject. When it's closer to the exam, I test my knowledge by writing practice essays and completing multiple choice questions.
There is a lot of information to learn and understand, but things become more manageable if you design a study schedule for yourself and stick to it.
Q: Can you share what a typical day looks like for you?
The following was a typical Wednesday during my spring semester. Of course, things may vary by day and semester, but my goal is always to utilize every moment.
7:15 – 8:00 A.M.
I wake up to my alarm or my dogs – whichever starts making noise first. I let the dogs out and get ready for my day.
8:00 – 10:00 A.M.
I start my day at the Western State Library, where I work at the reserve desk checking books in and out for other students. I am allowed to study during any downtime, so I review outlines that I have created to prepare for the California Bar Exam.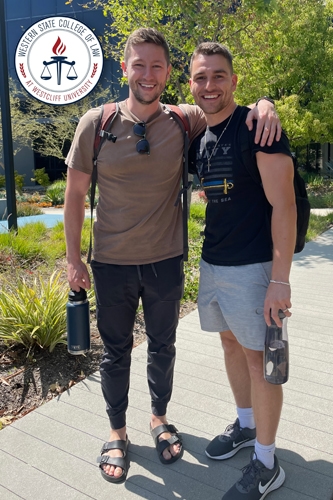 10:00 – 12:00 P.M.
While still on my shift, I will switch up what I am studying. Ideally, I have my readings done a week in advance of class, so sometimes I will start the reading assignments for the following week's Basic Bar Studies class.
Noon – 1:00 P.M.
Noon marks my lunch break! This semester I am making a conscious effort to pack a lunch, even though Jersey Mike's is always tempting me. I review the assigned reading for my Remedies class while I eat.
1:00 – 2:30 P.M.
I head over to my Remedies class for the next hour and a half.
2:30 – 4:00 P.M.
After class, I make my way over to LA Fitness for a workout. It is important to stay physically active, and it is a good way to relieve stress throughout the semester.
4:00 – 5:00 P.M.
After my workout, I head home to unwind and take the dogs for a walk.
5:00 – 6:30 P.M.
After I have walked the dogs, and with Remedies for the week completed, I start my next week's assigned readings.
6:30 – 8:00 P.M.
This is when my girlfriend finishes her 12-hour shift as a registered nurse. I start preparing dinner so we are able to eat together.
8:00 – 10:00 P.M.
After dinner, I resume my reading for next week's classes. Finishing early allows me to have free time over the weekend.
10:00 P.M. – Midnight
I like to end the day in the same way I started, by reviewing more outlines in preparation for the California Bar Exam. I believe that finding small pockets of time to review the material will give me a head start, and lessen my workload after I graduate.
There is a lot to juggle throughout the day, and it can be tiring at times. However, it is rewarding when all the hard work pays off!
---
We love seeing how our students find balance amid a busy schedule, as this is important to being successful in law school and beyond.
Interested in learning more? Read "A Day in the Life of a Full-Time Western State Law Student," an interview with Callie Yu for insights from one of our many students active in extracurricular clubs.