Western State is committed to providing every student with the resources needed to maximize their success. Our law library and supporting staff are invaluable and provide an academic advantage like no other.
Check out all the great things our law library has to offer to help you prepare for finals!
Study Aids
The law library has a multitude of assets, including study aids and hornbooks, to help students focus on definitive areas of study and provide key insights on what to expect from exams.
Students can access past exams at the library's reserve desk for day-use. Past exams can help students understand what might be on a test and better prepare for their exams. Study guides, textbooks, CDs and other materials can also be found within the library's many databases and subscription-based resources. Hornbooks, which serve as a condensed one-volume treatise concentrating on a specific aspect of law, are also available.
Online Library Resources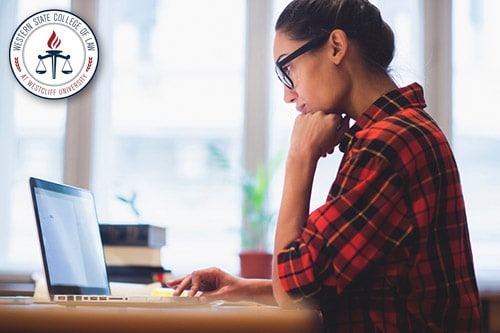 If you're not someone who enjoys cozying up in the library, don't worry! There are plenty of online resources available to you from the comfort of your home.
Western State's library provides students with access to numerous online databases, including:
Computer-Assisted Legal Instruction (CALI) which houses over 1,200 interactive legal tutorials geared towards serving law students on their core curriculum.
CEB OnLaw is a dedicated platform for comprehensive California-specific practice guides.
Vital Law serves as a reliable database for legal research and is extremely handy when conducting high-level analysis.
HeinOnline, LexisNexis and Westlaw each provide a vast database for primary law, secondary sources, legal news, and practical law research.
Inside the Law Library
Western State's law library not only has resources available but is also designed for optimal in-person studying sessions. It offers communal study spaces where students can meet, as well as more secluded, private areas. Both room types can be accessed on a first come, first serve basis and are available during library business hours. The library has desktop computers, printers and other technologies available to support your academic work.
Faculty
At Western State, our faculty takes pride in providing students with the necessary resources and guidance to make their California law school experience both practical and effective. The library team is available to answer questions, assist in finding resources and support students in their studies.
If you have questions, contact the Circulation Desk at 714.459.1111.