When looking at law school, many students must make the decision whether to attend full-time or participate in a part-time program.
We interviewed Callie Yu, a full-time 2L student at Western State to learn more about what a typical day looks like as a full-time student.
Q: Could you tell us a little bit about yourself?
I first started my journey in the legal field as a legal assistant for a family law firm and then transitioned to working in the legal department at a healthcare company. After law school, I plan to pursue business law.
Q: What is something you have loved about your experience at Western State?
I really enjoy the small class sizes. Our class sizes range from about 15 to 60 students, depending on the course. Personally, it makes it less nerve-wracking to raise my hand and ask or answer questions in small groups as opposed to a large lecture hall.
Q: Are you involved in any of the student organizations on campus?
I am currently a member of the Law Review Symposium Committee, secretary of the Student Bar Association (SBA), a Western State Student Ambassador and member of the Asian Pacific American Law Student Association (APALSA).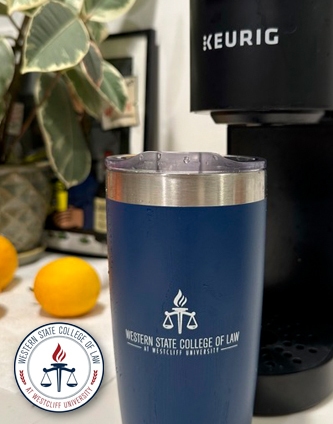 Q: Can you share what a typical day looks like for you?
Here's a glimpse into a normal Thursday:
8:30 – 9:30 am
I start every morning with a cup of coffee. It's an essential part of my law school journey and I wouldn't be able to get through law school without it!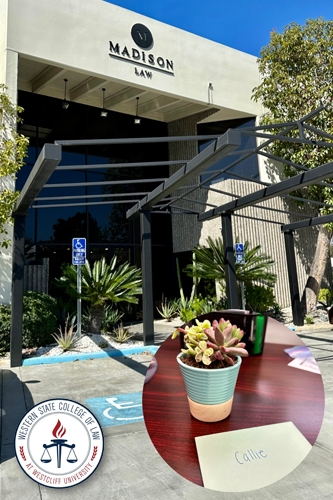 9:30 – 1:30 pm
This semester (Spring 2023), I'm enrolled in our civil externship program and am placed at Madison Law, APC. The firm handles a wide variety of cases, mostly pertaining to civil matters. I work here about 12-15 hours a week, so it's been a big help that they're super flexible with scheduling. So far, this has been a great opportunity as I have been able to learn and gain hands-on experience drafting legal documents including demand letters, complaints and answers to arbitration. Everyone has been friendly, and I can tell that the staff are one big family. They even included a thoughtful gift and letter for me on Employee Appreciation Day!
2:15 – 4:15 pm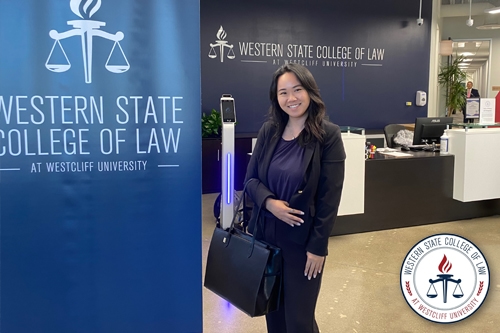 After my shift at the law firm, I head to class. On Thursdays I have an externship seminar, which is a separate class that accompanies the externship. The seminar is focused on ethics, learning the Model Rules, the do's and don'ts of working at a law firm and helps to prepare us for our future careers as an attorney. During class, we go over different fact patterns, identify ethical issues and brainstorm solutions on what actions or precautions the attorney should have taken in that situation… It's a good refresher on the rules since I'll be taking the Multistate Professional Responsibility Examination (MPRE) soon.
4:20 – 6:20 pm
My next class is Business Law Ethics. This class is a 1-unit course and is required to get the Business Law Certificate at Western State. This class meets every other Thursday, and alternates with my Contracts Drafting course.
6:40 – 7:30 pm
It's time for dinner! I typically meal-prep for the week which saves me a lot of time.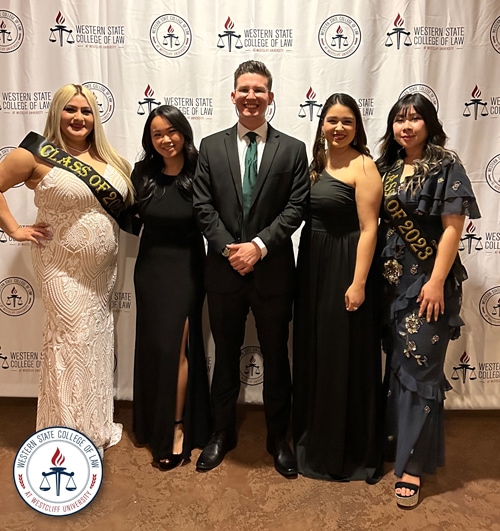 7:40 – 8:30 pm
Before I start my reading assignments, I perform tasks for the Student Bar Association (SBA). As the secretary, I work closely with the social committee and plan all kinds of events for our students such as Bar Reviews (a socializing event), fundraisers, Wellness Week and our biggest event, the Barristers' Ball (which is essentially law school prom). After several months of planning, I'm happy to share that Barristers' Ball was a success! We had an eventful night filled with food, drinks, desserts, awards, dancing and more! Although it was stressful to plan, it was definitely a memorable experience and I'm glad that my peers enjoyed it. Special thanks to the social committee team for putting this event together! ( James C., Jeremy B., Mary T., Emily P., Anya L.).
8:30 – 9:00 pm
After finishing my obligations for SBA, I have a few more things to do for Law Review. I'm on the symposium committee, and this year our symposium is about a criminal law topic and will feature a balanced and informative discussion led by a panel of legal experts including attorneys, judges and professors. Throughout the semester I've helped put together an application to have the symposium count for Minimum Continuing Legal Education (MCLE) hours, and it was recently approved by the State Bar of California for MCLE credit! I've also been working on drafting donation letters and the sponsorship tiers for the event, as well as reaching out to our legal community to seek sponsorships to support our event.
9:00 – 11:00 pm
I'm finally getting to my school reading assignments! Luckily, I don't have school on Friday. However, I try to do a little bit of work Thursday nights or at least plan out assignments that I need to complete for the weekend in advance.
12:00 am
I'm off to bed!
My schedule has been crazy during my 2L year, and it's stacked all day, every day. On the weekends I work half-days and spend the rest of my free time with my family. It's definitely important to find a balance between school, work and personal life!
---
We hope this interview with Callie has helped to paint a better picture of what law school can be like for a full-time student. Interested in knowing more about our part-time program? Read "A Day in the Life of a Part-Time Western State Law Student," an interview with Joseph Massey.