Jason Blonska
Mark Brown
Bart Carey
Lucero Chavez
Pamela Davidson
Carolyn M. Dillinger
Scott Feig, Esq.
Stephanie Franco
Kristin F. Godeke
James A. Hayes, JR.
Stephen Hendricks
Renato Izquieta
David Vedad Jafari
Andrew C. Kim
Michiyuki Kono
Daniel S. Lim
Holly Woesner
Star Lopez
David Macher
Honorable Kimberly Menninger
John E. Ohashi
Neil Pedersen
Matthew T. Plaxton
David Porter
Suzanne Reuben
Sabrina Rivera
William D. Shapiro
Daniel Sharp
Steven E. Shube
Paul Taylor Smith
Yolanda V. Torres
QUESTIONS?

Get in touch at:
Deirdre Kelly, Assistant Dean for Career Development, dekelly@wsulaw.edu
Oscar Teran, Director of Career Development, oteran@wsulaw.edu
Mailing Address:
Western State College of Law
1 Banting
Irvine, California 92618
Fax Number:
(714) 525-6721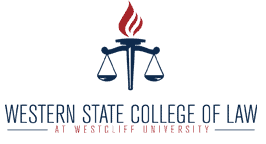 Founded in 1966, Western State College of Law is the oldest law school in Orange County, Southern California, and is fully ABA approved. Western State College of Law's 11,000+ alumni are well represented across public and private sector legal practice areas, including 150 California judges and about 15% of Orange County's Deputy Public Defenders and District Attorneys.
Programs, credential levels, technology and scheduling options are subject to change. Western State College of Law at Westcliff University, 16715 Von Karman, #100, Irvine, CA 92606 © 2020 Western State College of Law. All rights reserved. Our email address is materialsreview@wsulaw.edu.
See wsuprograms.info for program duration, tuition, fees and other costs, median debt, salary data, alumni success, and other important info.