In California, prospective law students have multiple options for law schools. Applicants can choose from ABA accredited law schools or California accredited schools, and both may offer traditional full-time or part-time law school options. However, before committing to a law school, a prospective student must first apply. For first-time law students or working professionals, California law school applications can seem like a daunting task. However, the application process can be broken down into nine easy steps.
Step 1: Begin with Research
All prospective applicants should begin with research. Many factors go into choosing which law school to apply to. A particular California law school may seem attractive simply due to geographic proximity; however, applicants should identify key factors that are important to them and find a law school that aligns with those factors. It is important to compile a list of the best California law schools based on personal needs and goals, and not on someone else's opinions or preferences.
For example, working adults may be looking for a part-time juris doctor program in California, which not all law schools offer. Meanwhile, other applicants may be looking to apply to an ABA-approved law school in California because they want the ability to practice in other states upon graduation. When looking into law schools, important factors may include post-graduation employment rates, financial cost, bar passage rate, scholarship opportunities and diversity.
Every ABA approved law school will have something called a "509 Report" and an "Employment Summary" on their website. In addition, an ABA school is required to provide a bar passage report showing the most recent first-time bar exam pass rate and the pass rate two years after graduation. All of these reports can be found by visiting the front page of an ABA school's website and clicking on a link called "Consumer Information (ABA Required Disclosures)". These reports provide important details so that prospective students can make educated decisions based on transparent and uniformly collected data. For the general public, the ABA makes all of this data available on its Required Disclosures website for students to study.
In addition, applicants can reach out to admissions counselors at the specific schools they potentially want to apply to. This is often the best way to find out about a schools' admissions process, culture and overall willingness to help students. This is especially true of unaccredited and California state accredited law schools, which do not have to publish "509 Reports" or employment outcomes. Awareness of the differences between ABA accredited and California accredited law schools is important, because some data may be unavailable when researching state accredited law schools.
Step 2: Prepare and Create a Timeline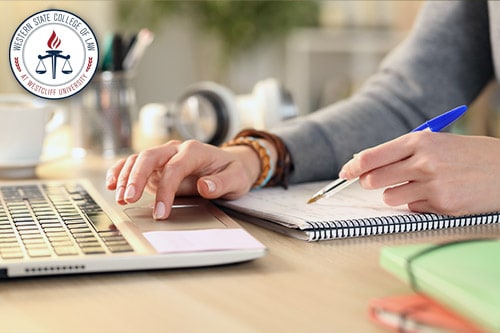 After researching, prospective applicants should have a clear idea of the qualifications that they need to apply to law school. Most ABA law school applications will require an LSAT score, letters of recommendation, transcripts, personal statements and other optional documents (resumes or addendums). Unaccredited and California accredited law schools have similar requirements, but they often do not require an LSAT score. Requirements and deadlines will vary by law school. To start preparing, students should have a space where they can compile all their documents and have a detailed timeline of when to submit required application documents. This can be done in a notebook or spreadsheet. The timeline should detail LSAT prep time, LSAT date and when their law school application needs to be submitted. Keep in mind schools may offer priority deadlines or have different deadlines for different parts of the application. During this process, applicants should begin to think about possible recommenders for letters of recommendation.
Step 3: For ABA Approved Law Schools, Create a Law School Admission Council (LSAC) Profile & Register for Credential Assembly Service (CAS)
All ABA approved law schools in California will utilize LSAC and CAS to obtain your application. Applicants can create an LSAC account and register for CAS on LSAC.org. Conveniently, LSAC has a built-in calendar with application deadlines. Applicants will only see deadline information for the law school to which they apply to.
Unaccredited and California state accredited law schools do not require any of these things. Applying to those schools often requires simply completing an online form and uploading certain documents.
Step 4: Study and take the Law School Admission Test (LSAT)
The Law School Admission Test, commonly referred to as the LSAT, is a standardized test consisting of five parts: logical reasoning, analytical reasoning, reading comprehension, an unscored variable section and a writing sample. The LSAT test is a key indicator of a first-year law school student's success and is scored in the 120-180 range. The LSAT is offered multiple times a year. The LSAT is important because all ABA approved law schools accept the LSAT as part of the application, and some California state accredited law schools accept the LSAT. Taking the LSAT offers applicants the widest range of schools to select from.
For those schools that require the LSAT, the exam is an extremely important part of your application. As a prospective law student, it can be helpful to create a study timeline, obtain a tutor or join an LSAT preparation class. For undergraduates students, it may be helpful to talk with a pre-law advisor and explore the resources the college has available. Once applicants feel prepared, they should sign up for the LSAT. The LSAT has a three-week turnaround before scores are released, meaning applicants must choose a date they feel prepared for and aligns with their law school application deadlines.
Step 5: Update the Resume
Although resumes may be optional, they are an organized way of showing applicants' accomplishments and abilities. Additionally, they can be helpful to your recommender when writing a letter of recommendation.
Step 6: Send a Request for a Letter of Recommendations
Most California law schools will require two letters of recommendation. Letters of recommendation should be asked for in a timely manner in order to provide your recommenders adequate time to write a good letter on your behalf. To provide recommenders a timeline, and to provide them with insight into your application processes, applicants should schedule a meeting with their recommender.
Applicants should obtain recommendations from individuals who can attest to their work ethic, either academically or professionally. Recommenders should be able to clearly state why the applicant would be a good fit for law school. Sharing a resume or recent accomplishments may help recommenders write an impactful letter.
Step 7: Send Transcripts
Review your undergraduate institute's transcript policy. Make sure to note the cost for sending the transcript and the turnaround time frame. All law schools in California, whether unaccredited, state accredited or ABA accredited, request information regarding your academic history. Be sure to request your transcripts early in order to meet law schools' deadlines.
Step 8: Begin Brainstorming and Write your Personal Statements and Addenda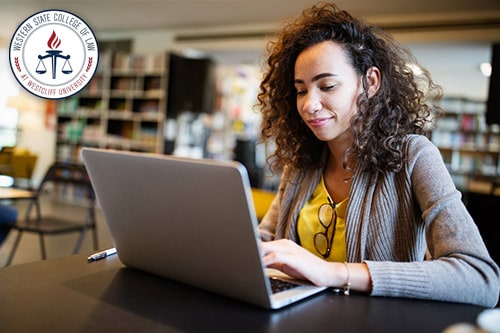 All California law schools, both accredited and unaccredited, request a personal statement. Personal statements can be daunting. However, they are another vital part of the law school application. Personal statements provide applicants with the opportunity to let the admission committee know who they are while simultaneously displaying their writing ability. Each school will have a slightly different prompt for personal statements, so it is important to read each prompt carefully and tailor the personal statement accordingly. If a school offers an open-ended prompt that allows applicants to write about whatever they wish, applicants should consider telling a clear story detailing the reasons why they want to pursue a career in law.
In terms of addenda, they are important to submit in certain situations. An addendum is another opportunity to explain any parts of your application. For example, a gap in education, poor performance during college, a wide range of LSAT scores or criminal history should be explained. Some schools may request an addendum for evaluating applicants for scholarship opportunities. The addendum should be clean and straight to the point.
Applicants are strongly encouraged to edit their personal statements and addenda before submitting their application.
Step 9: Review and Apply
Be sure to thoroughly proofread and review all of your documents and follow each law school's admissions requirements. After compiling all of the necessary documents, simply hit the submit button and apply.
For Western State College of Law's application instructions, please visit Western State's Guide for First-Time California Law School Applicants or call the Admissions Office at (714) 459-1166.