The Business Law Center is a place where you can gain the skill sets, experiences and contacts to begin and enhance a business law career.
Over the past decade California's economy has been ranked in the Top 10 economies in the world.* Western State's Business Law Center seeks to leverage its place in that economy to provide students with meaningful opportunities to engage with the laws, policies, regulations, and practices that impact a variety of businesses.
Outside of the classroom, Western State's Business Law Center invites a variety of speakers to campus, hosts networking opportunities for our students, and works with our Externship Program to secure meaningful practical Business Law experience for our students. Student activities, such as the Business Law Association and the Volunteer Income Tax Assistance Program (VITA), provide Business Law students with a variety of on-campus leadership opportunities.
Inside the classroom, Western State's Business Law Certificate curriculum reflects a broad offering of rigorous courses at the nexus of law and business. The Business Law Center strives to ensure that students can develop a repertoire of legal and business skills to make themselves globally competitive in an economic marketplace.
Contracts I and II and Business Associations are part of the required foundational coursework for all Western State students. All upper-level students at Western State may then choose from a wide variety of Business Law electives, such as Sports Law, Intellectual Property, and Securities Regulation.
For students looking to go beyond an elective or two in Business Law, the Business Law Certificate program allows them to focus on a specific, broad, and deep course of study in Business Law. Students who complete the Business Law Certificate program will earn a permanent designation of this specialty on their transcripts.
*Myers, John (2016, June 30)California's economy (maybe) moves to world's sixth largest. Retrieved from www.latimes.com/California
WESTERN STATE'S BUSINESS LAW CERTIFICATE PROGRAM ALLOWS STUDENTS THE OPPORTUNITY TO LEARN:
a skill sets — including accounting, finance, tax, decision-making, game modeling, and economics — all as applied to legal analysis;
the proficiency to negotiate, structure, and document complex transactions, from entrepreneurial business entity formation to structuring corporate mergers and acquisitions to responding to regulatory inquiries; and
an integrative education that blends substantive legal theory, practical experience, professional skills, and a strong ethical foundation, resulting in graduates ready to act as effective counselors, decision makers, and leaders in nearly any business setting.
Western State's Business Law courses are taught by faculty who possess strong practical and theoretical backgrounds In addition to their strong practical experience. Many of our Business Law faculty members hold advanced degrees and credentials, such as MBAs, CPAs, patent lawyer registrations, and LLMs.
BUSINESS LAW ELECTIVE COURSES
Western State College of Law offers students a broad range of electives:
Advanced Corporate Law
LAW537 Mergers and Acquisitions (3 Credits)
LAW536 Securities Regulation (3 Credits)
Alternative Dispute Resolution
LAW461 Mediation (3 Credits)
LAW413 Arbitration (2 Credits)
Business Law Practice Skills
LAW517 Civil Practice Externship (3 Credits)
Corporate Drafting
LAW429 Law Practice Management (3 Credits)
LAW505 Moot Court (0-1 Credit)
Business Law Specialties
LAW448 Employment Law (2 Credits)
LAW432 Entertainment Law (3 Credits)
LAW433 Environmental Law (3 Credits)
LAW441 Insurance Law (3 Credits)
LAW483 Sports Law (3 Credits)
LAW545 White Collar Crime (3 Credits)
Commercial Law
LAW414 Bankruptcy (3 Credits)
LAW422 Consumer Finance Law (2 Credits)
LAW495 Secured Transactions (3 Credits)
Intellectual Property Law
LAW462 Copyright Law (3 Credits)
LAW442 Intellectual Property (3 Credits)
International Business Law
LAW444 International Business Transactions (3 Credits)
LAW602 International Human Rights (3 Credits)
Real Property Law
LAW472 Real Estate Transactions (3 Credits)
LAW495 Secured Transactions (3 Credits)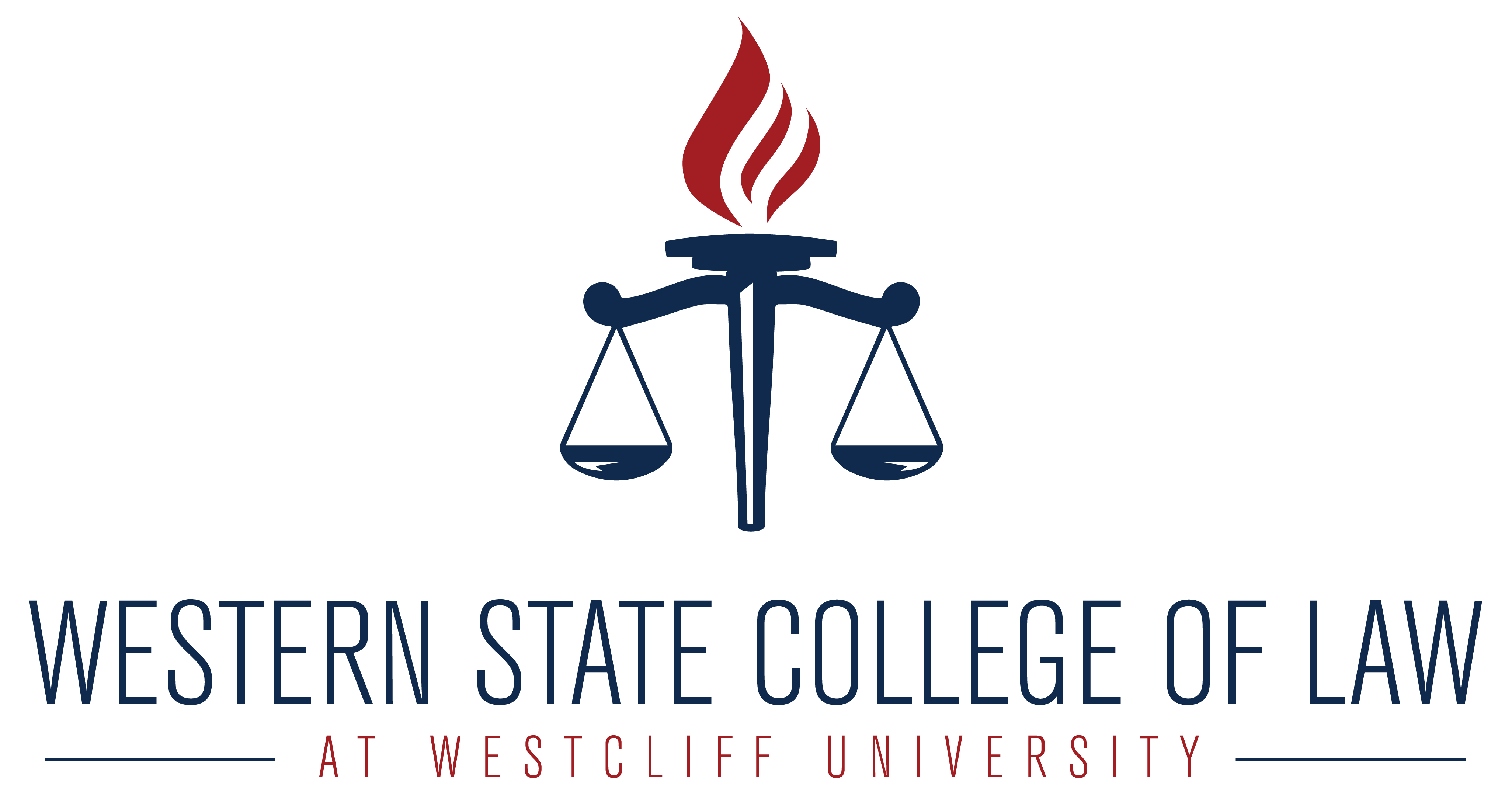 Founded in 1966, Western State College of Law is the oldest law school in Orange County, Southern California, and is fully ABA approved. Western State College of Law's 11,000+ alumni are well represented across public and private sector legal practice areas, including 150 California judges and about 15% of Orange County's Deputy Public Defenders and District Attorneys.
Programs, credential levels, technology and scheduling options are subject to change. Western State College of Law at Westcliff University, 16715 Von Karman, #100, Irvine, CA 92606 © 2020 Western State College of Law. All rights reserved. Our email address is materialsreview@wsulaw.edu.
See wsuprograms.info for program duration, tuition, fees and other costs, median debt, salary data, alumni success, and other important info.