Western State is committed to providing its students with a top-notch law school experience. Faculty play an integral role in this and help shape the next generation of legal professionals. We are proud to have 24 amazing full-time faculty and emeritus professors and 39 adjunct faculty with extensive real-world experience, a passion for teaching and dedication to our student's success.
In addition, Western State prioritizes a commitment to diversity and was recently ranked 6th for most diverse faculty in the Princeton Review. This prestigious honor recognizes our ongoing efforts to create an enriching law school experience. As of 2023, among full-time employees, 60% are women and 40% identify as a minority.
Law School Faculty: More Than Teachers
When most people think about professors, they picture them teaching lessons in a classroom; however, our law school faculty have many important roles. These include: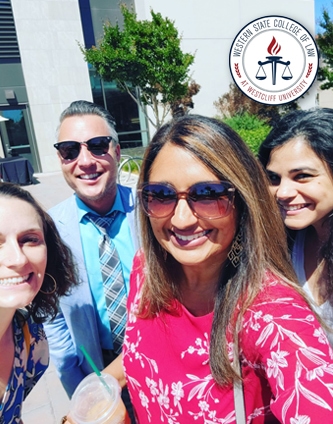 1. Teaching: Our faculty purposefully teach smaller-sized classes to provide personalized instruction to students. Their lectures are focused on teaching legal concepts, principles and theories. They also build classes around analyzing cases and facilitating discussions, prepare students for exams and provide feedback to help improve students' legal writing, analysis and subject matter understanding.
2. Real-world experience: Most of our faculty practiced law before teaching. Their experience allows them to bring a different approach to their teaching method and close the gap between theoretical understanding and practical application. For example, Professor Glenn Koppel teaches federal civil procedure and evidence practice and brings his experience to convey lessons in a real-world, practice-oriented context.
3. Commitment to success: At Western State, our faculty have an open-door policy. This helps ensure that students have access to resources that can help them succeed. Students are encouraged to come prepared with specific questions so professors can better assist them.
---
Western State is a very student-focused culture. Our focus is teaching and making sure students do the best they can. Professor Eunice Park, from the webinar Law State Professors "Tell it Like it Is"
---
4. Mentorship and networking: Our faculty create close bonds with students to provide guidance and career path insight. Additionally, our faculty have strong professional community connections and the ability to bring in guest speakers or connect students to internship or externship opportunities.
5. Advancing the legal community: Part of the academic profession is participating in legal research. Legal research can impact policies and legal reform, which improves the legal systems and promotes social justice. Faculty continually advance their legal knowledge and stay up to date on the latest legal developments to better instruct students and select case studies and materials for the classroom.
Western State Faculty Highlights
While we have several faculty we could highlight, the following are three 2023 standouts.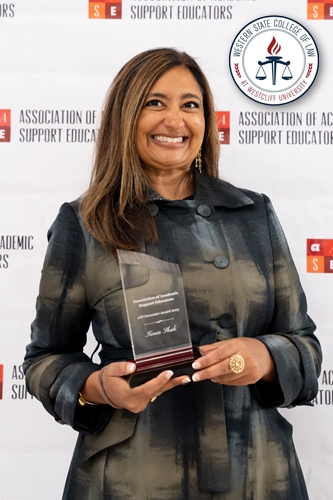 Tania Shah, director of the academic success program and associate professor of lawyering skills, was recognized with an ASP Innovator Award. She was nominated for her new and innovative programs to assist students at the law school. The award was provided by the Association of Academic Support Educators (AASE), the professional organization for law school academic support educators. The award spotlights the meaningful work that academic educators do for their students, the legal profession and one another. Since joining Western State, Professor Shah has been focused on rebuilding the Academic Success Department, as well as revamping the curriculum for the Basic Bar Studies course.
She has published four books in her career, including "The Ultimate Guide to the Uniform Bar Exam," which she co-authored. It features actual graded essays from the uniform bar exam (UBE), as well as commentary and tips on how to maximize scores in each section. She also spoke at the 10th AASE Conference with her colleague, Professor Kate Bolus, in May 2023 on the topic of "Rallying and Recapturing the (Bar Exam) Repeater (Charney 104)," discussing the why, when and how of the Continuing Bar Takers (CBT) program. The CBT program at Western State focuses on one-on-one support, individual accountability and ample opportunity for practice and feedback to help improve the bar pass rate.
Professor Shah currently teaches Introduction to Legal Methods and Basic Bar Studies at Western State. She has been a corporate lawyer throughout her legal career, focusing on business law. She is passionate about diversity, equity and inclusion (DEI) and has taught for Seize Every Opportunity-Law, a not-for-profit institution that offers scholarships, training and tutoring for students of color entering the top ten law schools.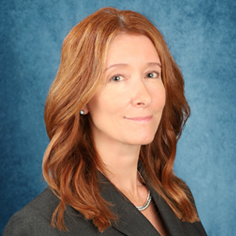 Elizabeth Jones, professor of law and director of the criminal law practice center, brings extensive experience to the classroom. During her time at Western State, she has been voted "Professor of the Year" by the student body no less than six times. Prior to Western State, she worked as a criminal defense lawyer, handling misdemeanor and felony cases from arraignment through trial. She also represented children in delinquency matters in juvenile court.
Professor Jones has been published extensively on topics related to criminal law, including the treatment of jurors in California's death penalty debate, deceptive police practices, the role of crime victims in plea-bargaining, examining a juvenile's capacity for criminal liability in street gangs and more. She has spoken at several events and conferences on similar topics.
Recently, she was published in the Seattle Journal for Social Justice. Her article "Crim Pro Rewired: Why Current Police Practices Require Candor in the Classroom" explored some of the current unresolved legal tensions between digital policing and cell phones among the public. Drawing on her expertise teaching criminal procedure, she deconstructed the Fourth Amendment and highlighted the disparities between current law enforcement practices and constitutional principles taught in the classroom.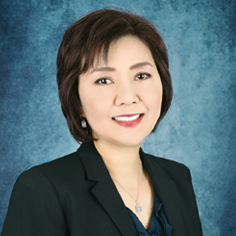 Eunice Park, associate professor of law, was recently a featured panelist at "The Use of Consumer Data in Prosecuting Abortions and What We Can Do Moving Forward" webinar hosted by American University Washington College of Law. Her paper on this subject received the Privacy Papers for Policymakers Award from the Future of Privacy Forum, a Washington DC-based think tank. Professor Park's paper, "Reproductive Health Care Data Free or For Sale: Post-Roe Surveillance and the 'Three Corners' of Privacy Legislation Needed" which will be published this year in the N.Y.U. Review of Law & Social Change, addresses the post-Dobbs landscape in which law enforcement has the ability to mine digital data to criminalize the individual. Her proposal for federal legislation focused on the privacy of health care data specifically relating to reproductive choice.
This article is just one example of Professor Park's ongoing efforts to address the tension between technology and privacy. She has 15 published scholarly papers across a wide range of journals and has presented at various events and conferences. In May, Professor Park was featured in a celebration of Asian Pacific American Heritage Month & Jewish American Heritage Month by the Future of Privacy Forum as one of six "exceptional tech leaders," alongside Sheryl Sandberg and others, "who have made significant contributions and broken barriers in their fields."
Professor Park also supports students at Western State as a moot court competition coach. Students selected for this team further develop their appellate advocacy skills. Under her leadership, her team won "Best Overall" in the 21st Annual National Juvenile Moot Court Competition.  In addition, she has served as co-chair of the Diversity Committee for the National Association of Legal Writing Directors and assistant editor for the Legal Writing Institute Journal.
These are just three examples of how Western State's law school faculty play an integral role in advancing the legal community and ensuring the next generation of lawyers is ready for the real world. Our dedicated professors are committed to student success and bridging the gap between theoretical knowledge and practical application. Moreover, their involvement in legal research allows them to stay up to date on the latest developments, contribute to the improvement of legal systems and promote social justice.
Top Questions to Ask about Faculty When Choosing a Law School
Faculty have a significant impact on the law school experience. When evaluating different schools, it is important to ask these questions: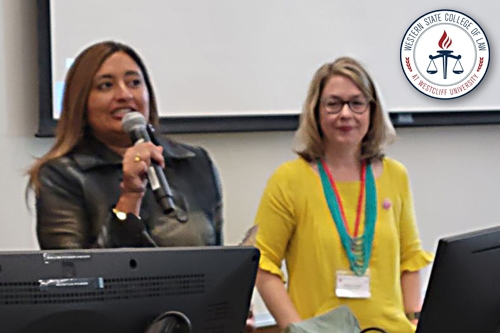 1. What is the typical teaching style and approach?
While each faculty member might have a different teaching style, understanding the common methods can help determine if the law school aligns with your preferred learning style. Some teaching styles include theoretical concepts, practical application or experience learning. In addition, some might teach with a collaborative, discussion-based approach, whereas others might be more focused on direct instruction and assessment and evaluation. Finding a law school that has faculty members whose teaching methods resonate with you can enhance your experience.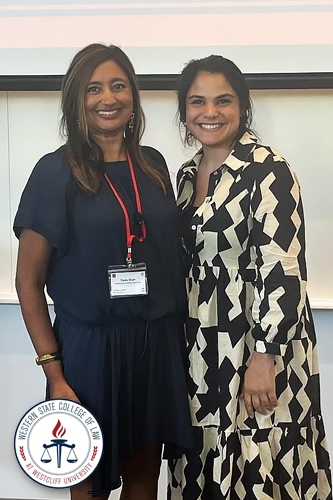 2. How can the current faculty foster connections in the community?
Law school faculty often have extensive networks within the legal profession. Their relationships with practicing lawyers and judges can create improved learning opportunities as they can bring them in as guest speakers as well as open the door for internships. If you know the type of law you are interested in practicing, look at the current faculty for those courses and their background before they entered academia.
Law school faculty is just one component to consider when selecting a law school. But at Western State, we believe they make a significant impact on our students' experience and are proud of the work they do in and out of the classroom. To see our full list of faculty, visit: https://www.wsulaw.edu/faculty-and-staff/. To learn more about Western State, visit: https://www.wsulaw.edu/prospective-students/about-wscl/.