Western State is committed to helping students reach their highest potential. Our esteemed faculty roster sets us apart and offers students the opportunity to learn from those who have had boots-on-the-ground experience. Professor Glenn Koppel is no different. He meshes real world experience with broad knowledge to bring a unique perspective into the classroom. Working for a Wall Street firm positioned him to lead students in courses on civil procedure and evidence practice. Koppel has also served as an advisor to the Civil and Small Claims Committee of the California Judicial Council and is a member of the elite American Law Institute. Western State is grateful to have such an exemplary team member who shows up for his students day in and day out.
We had a chance to chat with Professor Koppel to learn more about the path that led him to Western State.
Q: What made you interested in pursuing a degree in law?
A: I was a political science major in college, so I thought I would either go into U.S. Foreign Service or become a lawyer. I loved challenging accepted wisdom, sometimes called critical thinking, which is what good lawyers do. So, when I was admitted to Harvard Law School, I decided to become a lawyer.
Q: You have had quite a bit of experience at both large and small law firms. Can you share some of your most important takeaways from those experiences?
A: In my time as an associate at a major Wall Street law firm, I was exposed to large, complex litigation, such as an antitrust suit against Kodak, who at the time was a major player in film and photography. In that case, I had the privilege of working under John Doar, who served as the lead special counsel for the U.S. House Judiciary Committee's impeachment inquiry staff during the impeachment process against Richard Nixon.
Q: Who has been the most impactful person in your career? Why?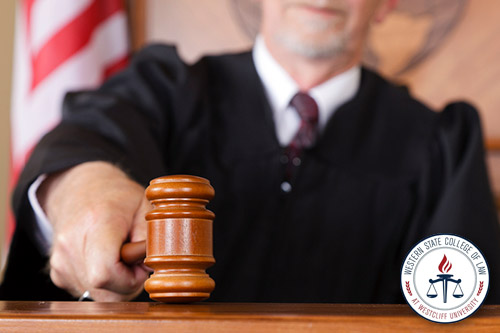 A: William B. Lawless was the most impactful person in my career. He was the former dean of Western State College of Law back in the early 1980s. Bill Lawless had an extensive background, including serving as a New York state court judge, former dean of Notre Dame Law School, and partner at the firm of Nixon, Mudge, Rose, Guthrie and Alexander, where Richard Nixon was a partner before becoming president. I met Bill when I worked part-time at his boutique law firm on Fifth Avenue in New York City while I was pursuing an acting career. He left his practice in the early 1980's to become dean of Western State. I called his office to see if he had any work for me after I returned from a road-tour show. His secretary told me he had moved to Orange County, Calif. to head up a law school there. When I got a hold of him at Western State, he asked if I would be interested in teaching civil procedure. I had always wanted to teach law, so this opportunity metaphorically fell into my lap. The rest is history. I've been teaching at Western State for the past 40 years.
Q: Do you have a case or an experience that stands out from your career? What made it an important event and what did you learn from it?
A: Arguing my first motion in New Orleans stands out to me. It was important because it was my first oral argument, and before a federal district court judge. I was sent to New Orleans by the Wall Street law firm where I was an associate and, in the presence of our client's local counsel, was assigned to argue a motion. I recall I was unable to fall asleep the night before. I learned that it is natural to be nervous before an oral argument in court or performing on stage for that matter. The trick is to focus that nervous energy to achieve the task at hand.
Q: Outside of practicing law, do you have any other passions or hobbies?
A: I am also a professional actor and singer. My career started in New York and I continue to perform in numerous Southern California shows. As a teenager, I attended the High School of Music and Art in New York with a major in voice.
Q: Can you tell me a little bit about the courses you teach at Western State?
A: I teach federal civil procedure, and have taught California civil procedure and evidence, and a course called evidence practice.
Q: What is your favorite course to teach and why?
A: Evidence practice is my favorite course to teach because I play dual roles, both as teacher and as a judge sitting behind the bench, as students play the roles of plaintiff and defendant offering and objecting to each other's evidence.
Q: How did your experience in the real world impact your teaching curriculum and style?
A: Because of my experience in practice using the tools of civil procedure and evidence, I can convey to my students the real-world, practice-oriented context in which these rules are used to advance the client's interests. I can get them to think about how the rules of litigation are critically important tools that lawyers use to gain tactical advantage for their client.
Q: What advice do you give to students taking your classes?
A: I advise students to realize that law school is unlike any undergraduate course they have taken. It requires students to engage in critical thinking – to question the legal opinions they are assigned to read. There is usually no right answer to a legal issue, so stop looking for one. Be prepared to recognize there are often two sides to a legal issue and mobilize the law and the facts to argue either side.
Q: What do you think sets Western State apart from other law schools?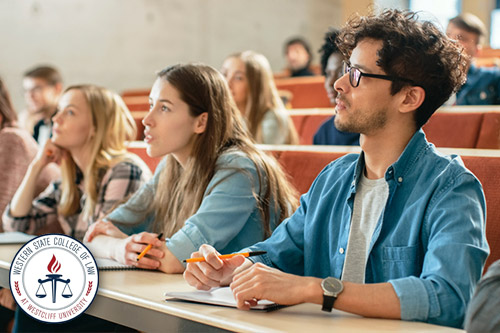 A: Western State offers robust academic support to help students succeed in law school, both in passing the bar exam and in their careers as practicing attorneys. The student body also offers social support from fellow students by collaborating with each other to succeed. When I attended Harvard, my classmates competed with each other, sometimes hiding their outlines rather than sharing them.
Q: If you could give current law school students one piece of advice, what would it be?
A: Law school is very demanding, unlike anything you experienced in undergrad. Your legal studies will be very time consuming and require your full attention. Your number one priority should be your legal studies. So, plan ahead before the start of your first semester. Organize your personal and business affairs (if any) to create enough room to succeed in law school and on the bar exam.
Q: In today's competitive environment, what encouragement would you give students and why?
A: Life is a journey full of twists and turns in the road. Opportunities will drop in your lap when you least expect them, so be prepared in advance to seize them as they come. Rather than competing with others for the sake of competing, pursue your particular passion(s) with all your heart and energy. As the Romans used to say, "Carpe diem."
Professor Koppel is dedicated to giving his students the best possible experience at Western State. Introduce yourself if you haven't already or set up time to connect to learn more about his endeavors, his array of published work, or listen to his strong words of wisdom.
If you are interested in learning more about Professor Koppel, visit: Western State College of Law faculty and staff