Interested in going to law school? Curious what it would be like to balance working full time and attending classes?
We had the opportunity to hear from Joseph Massey, one of our part-time students, who took time out of his busy schedule to share a glimpse of a day of his life at Western State.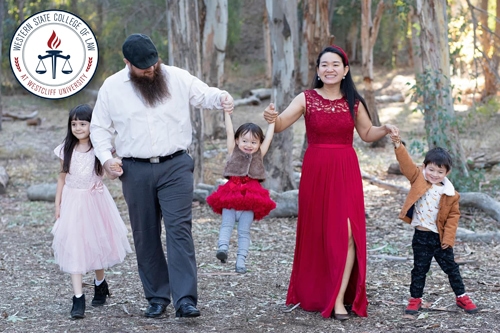 Q: Why did you choose to attend Western State College of Law?
When I was searching for a law school to attend, Western State appealed to me the most because of the flexibility it provides to people who work full time during the day. I'm older than your typical law student and married with three young children. So, I needed to find a school that could work with my schedule.
Q: How has Western State been able to support you during your law school journey?
Because I'm not your typical full-time law student, I am only able to use the on-campus resources like the physical library and study rooms once in a while due to my schedule. However, the school provides significant online resources for part-time students. The most significant resource is access to the professors, who are always flexible and able to meet with me and discuss any questions or concerns.
Q: What is something you have loved about your experience at Western State?
I love the culture at Western State. It's very diverse, with people who have a lot of different life experiences. I was surprised to meet so many students close to my age who are also working full time while they restart their careers. I've always had a love for criminal law growing up, and being able to pursue a career in that field is a remarkable opportunity. This year I was able to restart the Western State Criminal Law Association and was honored to be elected president. Our organization's goal is to promote awareness and understanding of the criminal justice system, which I feel is vital during these times.
Q: Can you share what a typical day looks like for you?
A typical day in my life can be pretty hectic and exhausting. I knew working full time with a family at home while attending law school would be difficult, but I keep reminding myself that it's worth it.
5:00 – 6:00 am
My alarm clock goes off, and I get ready for work. I have to be quiet as my kids are still sleeping most days, and I don't want to wake them up and make my wife's day start early.
6:00 – 7:00 am
Depending on the traffic in Southern California, my drive to work can be up to an hour. The drive is usually uneventful, and I like to listen to classical music to clear my mind and ready it for the day.
7:00 – 11:45 am
During this time, I perform my job duties as a workers' compensation adjuster. I manage claims that are assigned to my desk, ensure the claims move along and that injured workers receive proper medical care and benefits that are paid when due.
11:45 am – 12:45 pm
During my lunch hour I eat and break out my textbooks to complete the assigned readings for the week. There is too much to do and insufficient time outside of work and classes to complete everything, so I have to take advantage where possible.
12:45 – 4:30 pm
After lunch, I'm right back to work and completing everything before the workday ends. It is imperative that I prep for the next day's work before I leave because I am on such a tight schedule. Falling behind at work is not an option.
4:30 – 6:00 pm
Because I live and work far from Western State, it takes me an hour and a half to get from my office to school. Just like my early morning drive, I listen to classical music to clear my mind of any stress from work and prepare myself for class.
6:30 – 9:40 pm
I'm in class for the next three hours. While I'm physically and mentally tired at this point, I have to stay focused and alert in class, as you never know when a professor will call on you. Thankfully, the classes and professors at Western State are exciting and keep my attention, so it isn't hard to stay alert.
9:40 – 10:40 pm
There's not much traffic at this time of night, so I can get home from school faster, but it usually still takes me around an hour. Classical music is still a go-to, but there are some nights that I sit in silence and reflect on the lessons from class.
10:40 pm – 12 am
Depending on the night, I stay up and study a bit more before going to bed and restarting the cycle, but some nights I go to bed right when I get home.
As you can see, it can make for busy days to work full-time and attend law school. Most of my study time is completed on the weekend, but I genuinely believe it will be worth it in the end. I still find time to spend with my family on the weekends, and when I don't have class at night. As Carlson Gracie says, "there is no reward without sacrifice."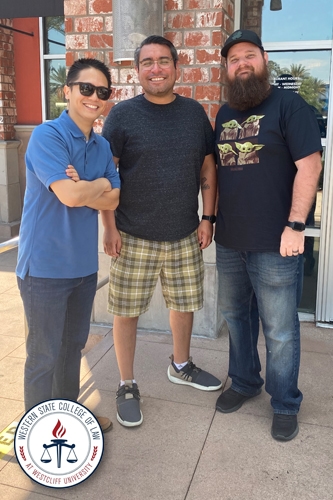 As we conclude our interview, we want to express gratitude to Joseph for sharing his experience at Western State. We are extremely proud to have devoted and hardworking students in both our full-time and part-time programs.
Western State College of Law, Orange County's oldest law school, is known for its small class sizes. Such small groups allow students access to individual attention from their faculty of professors with real-world experience and a focus on student success. We are also known for our commitment to maintaining a diverse student body, which includes supporting both part-time and full-time students. At Western State, we take great care to ensure that part-time students are afforded the same opportunities and experiences that full-time students have access to and provide a variety of evening classes taught by the same excellent faculty as full-time students.
To learn more about our part-time program, visit: https://www.wsulaw.edu/prospective-students/part-time-program/.