Public service is a foundational cornerstone at Western State and an integral part of the university's vision and overall identity. Our faculty, students and graduates have been widely recognized for being actively involved in projects that help enhance the well-being of our neighboring communities.
This holiday season, the members of the Western State Student Bar Association helped coordinate participation in the Laura's House "Spirit of Empowerment" holiday giving program. Laura's House is a nonprofit organization that provides services, including shelter, counseling, life skills education and legal advocacy to women, men and children impacted by domestic violence in Orange County, Calif. and beyond. The annual holiday giving program gathers donations of gift cards and unwrapped presents, gift wrapping supplies, containers and bags for storage and more. All proceeds and supplies collected during the program are given to individuals and families affected by domestic violence to help them enjoy and celebrate the holiday season. The Western State Student Bar Association was able to collect and donate over 250 gifts this year.
The Laura's House "Spirit of Empowerment" holiday gifting program is just one example of Western State's holiday-focused charitable arm. The school also provides its student body with many opportunities to participate in public service events by connecting them with local food banks, holiday toy and personal donation drives, disaster relief programs and more.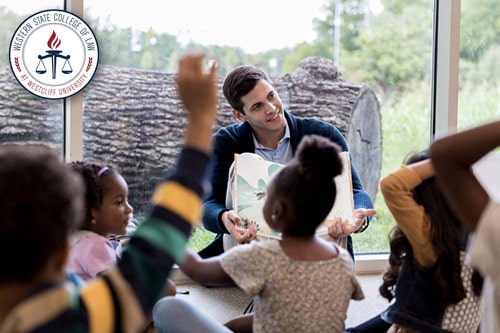 Western State even offers a public service program with resources, programs and placements allowing students to apply their developing legal skills to assist local community members and the underprivileged. Students that participate in the program are supervised by faculty and paired with a director to ensure they are fully supported.
Our university recognizes public service of a non-legal nature that supports and reinforces the program's mission and even encourages members of the faculty to participate as well through requiring pro bono work as criteria for their annual reviews and tenure.
Public interest service is recognized throughout the law school community in the form of awards, certificates and transcript notations. Students at Western State have the opportunity to earn any of the below designations:
Certificate of Public Service – 40+ hours of public service.
Certificate of Distinguished Public Service – 100+ hours of public service recognized with a white cord at graduation.
Certificate of Exemplary Public Service – 200+ hours of public service recognized with a white and light blue cord at graduation.
Wallace Davis Public Service Award – Created in honor of an Orange County lawyer whose life was dedicated to using the law to create justice and opportunity. Davis created grass roots organizations in Santa Ana, Calif., litigated a case aimed at reducing racial disparities in education and co-founded the Orange County Hispanic Bar Association.
Western State is extremely proud of the public service programs that have been created and expanded upon throughout the years. We are also very pleased with the dedication our students and faculty place around performing charitable acts as part of the curriculum, despite the heavy class loads and demands already required in law school. Last year, students volunteered to help religious institutions, organizations assisting the homeless and indigent and with a wide variety of legal and advocacy organizations. The graduating classes from 2020 and 2021 together performed a total of 4,254 hours of public service during their law school tenure, 96% of which involved pro bono legal representation of clients. If you are interested in learning how to get involved and commit to giving back, visit Career Services.