The Public Interest Law Foundation (PILF) has a deep-seated history at Western State. It began when Professor Sobel, the faculty advisor, brought it to the law school in 2010. Under her guidance and this year's new leadership, PILF is positioned to be a driving force on campus and in the community. The organization's mission is to provide current law students the opportunity to gain valuable experiences and connections in public interest law. Such experiences will help them become skilled legal practitioners and set them up for post-graduation success.
The student organization is currently led by:
Professor Stacey Sobel, faculty advisor

Professor Sobel joined the faculty at Western State in the fall of 2009. She currently teaches four courses: Constitutional Law I and II, Criminal Law, Criminal Procedure and Sexual Orientation and Gender Identity.

Oscar Teran, counselor

Oscar serves as the director of career development at Western State. He supports current students and alumni with career counseling and assistance at every level. That includes one-on-one career counseling, mock interviews, salary negotiations and hosting workshops and networking events.

D. Michele Smith, president, 2L
Chau Trieu, vice president, 2L
John Marh, secretary, 2L
Ryan Assady, treasurer, 2L
D. Michele Smith assumed the role of president in the fall of 2021 and has been passionate about public service since her church volunteering days. Volunteering experience fostered her dedication to helping others and guided her to pursue a focus in public interest law. In her role as president, she is excited to help others understand how public interest can touch every aspect of law. She believes that no matter what direction students go after they graduate with their law degree, having a background in public interest can propel graduates into better positions and open the door for career advancement. Ultimately, the primary principle of public interest is rooted in serving others. Therefore, this can lay the foundation for students to become the best lawyer they can be.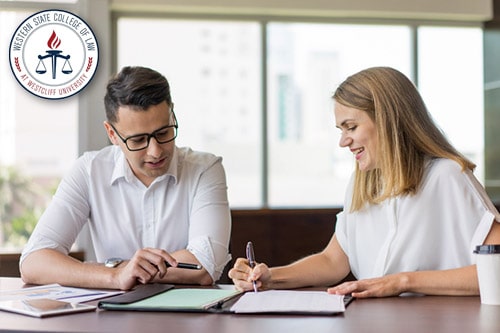 The organization is focused on hosting fundraisers to provide students with internship opportunity grants. In addition, it supports members with workshops such as resume training where members can learn about what goes into a resume and faculty can review and provide feedback. The organization also attends and supports the law school-sponsored job hiring fair in February. The event provides students with opportunities to sit for interviews and to network. PILF also features various presenters who share their public interest law experience and impart tips for a successful career.
Beyond the specific benefits that PILF offers its members, participating in a student organization can provide many benefits to students.
Resume: Participating in a student organization and holding a leadership role can be a resume boost. Not only does it show that you can juggle school and an extra-curricular activity, but it also sets you apart by showing a commitment and passion to a specific area of law.
Recognition at graduation: Students at Western State who complete a certain amount of service hours during their law school career are recognized at graduation and wear a cord to showcase their efforts. Participating in a student organization provides opportunities to be active in public service events and opportunities.
Connections: Participating in an organization helps build connections with classmates and the community. Because members share a similar interest, it is common for the group to meet for study hours and support each other with coursework. In addition, the networking opportunities allow students to connect with community members and professionals who can help with future job placements.
PILF offers everyone from 1L to 4L an opportunity to get involved. Interested individuals should contact D. Michele Smith and fill out a form to join. Members have the option to pay dues for the entire year or per semester. Membership provides students access to all events. Students can also join the board to get more involved or take a more active role in specific event planning. While its focus is on public interest, the board welcomes anyone to join as they believe the opportunities and experiences can help any student at Western State become the best possible legal practitioner.
If you are an alumni or community member involved in public interest law and would like to support the group through a donation or participate as a speaker at their next event, please reach out to D. Smith at pilf@stu.wsulaw.edu.