Western State College of Law Adds GRE Scores to its 2022 Application – Reducing Barriers to Earning a Juris Doctorate
IRVINE, CALIF. (April 14, 2022) – Western State College of Law, the oldest law school in Orange County, Calif., announced that it will now accept Graduate Record Exam (GRE) scores as part of its new admission standards starting immediately. The decision comes after the American Bar Association (ABA) Council voted to permit law schools to accept GRE scores in place of Law School Admission Test (LSAT) scores. This shift supports Western State's commitment to making law school accessible to all.
"We are excited to add GRE scores to the 2022 application," said Allen Easley, dean of Western State. "This offering opens the door to a wider range of prospective students, enabling Western State to foster a more diverse student body. Diversity – spanning interests, ages, genders, cultures and more – has been a longstanding value of our school, as we believe it improves the law school education experience for our entire student body."
Researchers at Education Testing Services (ETS) have found that GRE scores are a successful replacement for LSAT scores, and have been a strong, valid and reliable predictor of academic performance. The exam includes verbal and quantitative reasoning, as well as analytical writing – all important skills needed to succeed in law school. It also includes a math section, which allows individuals with different passions and strengths to apply – expanding the applicant pool. Western State joins 89 other ABA-accredited law schools accepting GRE scores and is one of 11 California law schools to implement the change.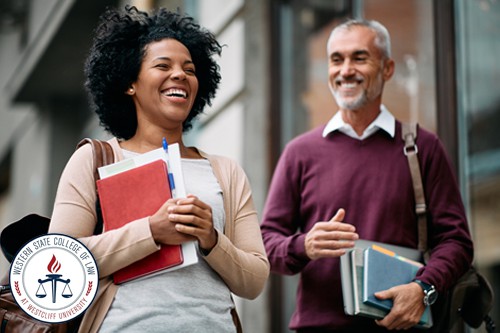 "We talk to many students early in their application process and a number of them are waiting to take the LSAT but already have a GRE score," said Michael Chen, assistant dean of admissions. "Adjusting our admission requirements to allow consideration of the GRE not only allows us to attract prospective students who might not have considered a law degree originally, but it also makes it possible for students to apply without waiting for a LSAT test date – which is only offered a select number of times each year and requires advance registration."
Applications for the fall 2022 class at Western State are open through July 15, 2022. To learn more about the application requirements at Western State, visit https://www.wsulaw.edu/prospective-students/how-to-apply/. The admissions office can be reached at (714) 459-1101 or adm@wsulaw.edu.
About Western State College of Law: Western State College of Law at Westcliff University is an established institution with a 50-year track record of success and a reputation for producing both successful trial lawyers and more than 150+ graduates have gone on to serve as judges and judicial officers. It offers subspecialties within the J.D. program to allow every student to find their niche and develop a unique skillset. Western State was acquired in 2019 by Westcliff University, a for-profit university in Irvine, Calif. offering bachelor's, master's and doctorate degrees. Since the acquisition, Western State has benefited from Westcliff's online learning andragogy and ability to swiftly respond to market needs by developing innovative specialty programs in real-time. Together, the schools are now fully integrated and committed to providing advanced higher education opportunities to students both globally and nationally. Visit www.wsulaw.edu to learn more or follow on Facebook, Instagram and LinkedIn.