Are you interested in attending law school part time, but curious about what your schedule would look like?
Previously we heard from Joseph Massey, but today we'll be hearing from D. Michele Smith, a former biochemist turned police officer who commutes to Orange County, California from Nevada and has her faith and family to support her through this experience.
Q: Why were you interested in pursuing your JD?
This will be my third career. I simply don't believe in retirement! No man or woman in the Bible "retires" to my knowledge, they just live in service to God and mankind. Most of my family has served and I was raised to believe that we are built to serve.
I loved my first career as a scientist where I worked for companies such as Quest Diagnostics and Beckman Coulter on anything from FDA trials to patient sample and hospital equipment testing/development, but the four white walls of a laboratory suffocated me.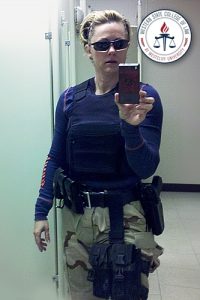 I love my second career as a police officer, but it is winding down. I was excited to get my JD because, in addition to practicing law, I will be able to continue two of my passions: volunteering for my church and teaching firearm and defense classes to women, while also developing pro bono legal services in those areas.
Q: Why did you decide to attend Western State? 
Law seemed like an interesting way to serve my community, and Western State was right down the street from where I was living in Irvine, California. I went to a meet and greet and was able to talk to many people, including Dean Arshagouni who was pivotal in my decision to go here.
Q: How do you make use of the resources Western State offers students?
The library is my current best friend. There is a peace at the library on campus that I cannot find at home, where it's all too tempting to just sleep, eat junk food and socialize with the family. At this library, I can find answers to any questions or chat with any of the amazing staff at Western State for information on things like the MPRE or summer school. The staff is extremely helpful and kind.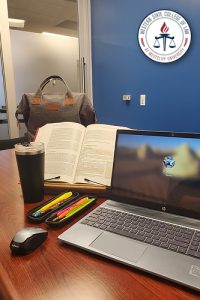 Q: What class is your favorite and why? What type of law are you hoping to practice after you graduate?
I have to say my favorite classes so far have been Criminal Law with Professor Jones and Community Property with Professor Blonska. I have no idea where I will specialize, but so far these are the standouts.
Q: Can you share what a typical day looks like for you?
This is a hard question for me to answer. Do we define a day by the dizzying hours of studying?  The attempt to balance home, work and school while wondering where sleep fits in? Is it simply the blessings of a day where it all comes together and there were enough hours to accomplish the mind-numbing plethora of set goals? Or is it the sigh of relief knowing there is a tomorrow to continue to climb this enormous mountain before me?
My work schedule varies based on the needs of my profession so I don't really have a typical workday. But here is a snapshot:
I wake up at 3:30 a.m. to get ready for my flight from the Las Vegas airport to the John Wayne airport (or vice versa). The money being thrown down for houses in Orange County was insane, so we decided to make the move to Nevada last summer. I knew it would be rough to commute to work and school until retirement/graduation, but that's why RYZE (my favorite mushroom "coffee") and friends who let you crash at their homes are so important.
Once my plane touches down or I complete a shift at work, it's a Lyft to grab my car and hit the school's library until Property or Constitutional Law.
When class lets out, I head to my school "office" for food and to study, and then to a spare room at a friend's house.
Even though I am in law school, I still have other obligations. After studying, it's time for some life preparations (paying bills, dentist appointments, family planning, business planning and all the dull dreary stuff that must be done).
I fall asleep when my eyes will no longer stay open – hopefully sometime between eleven and midnight.
Q: Anything else you would like to add?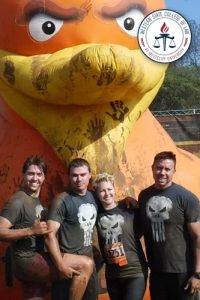 My family is amazing, but no one understands what law school requires. They allow me to do my thing, although I tend to get "the look" when I say no to invitations or leave a gathering after only a short time that I allotted in my Google calendar. I am sure many of my classmates know "the look," the one that says, "Oh boy this degree is such drama," or "It can't be THAT hard," or "Maybe you shouldn't do this if it's so much," and now the ever so clever, "You know AI will be the lawyers in five years so why are you bothering."
Therefore, it is extremely important to be committed to yourself and find a support system to be successful. The grace and patience required in law school definitely starts at home. You might love these people, but some will never get it. Learning is life. Without it we are ignorant of actual scientific facts, doomed to repeat the same mistakes that destroy civilizations over and over throughout history. Striving to do all this and so much more is what maintains America as an amazing experiment, without which we would witness both it and ourselves diminish and disappear as many great societies have after becoming decadent, sedentary and ultimately lost.
+++
Interested in learning more about our part-time program? Visit: https://www.wsulaw.edu/prospective-students/part-time-program/.