The summer after your first year of law school is a critical time to start building your resume with work experiences. Landing an internship or externship allows you to put your learned skills into practice and hone in on your career goals before year two. While it can feel overwhelming to seek out and build connections in law, Western State is committed to our students' success by creating such opportunities. One of the ways we do this is through our Summer Honors Program (SHP).
How to Apply for Law School in California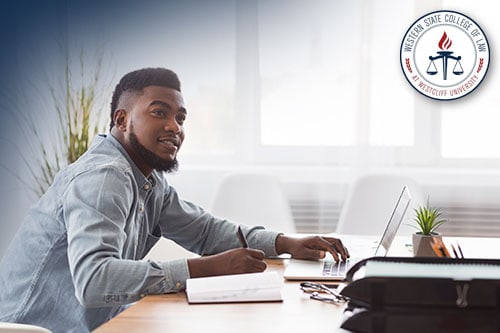 The SHP is available to first-year students who have a GPA over 2.8. Students who begin in the fall semester are eligible based on their GPA for that semester and have the opportunity to learn about the program during the spring. For students that apply in the winter, Western State takes into account their GPA from their first two semesters for participation the following summer. If students meet the GPA requirement, they are invited to apply by submitting a statement of interest. If selected, they work directly with Western State's career resources department to identify and secure an internship or externship matching their interests. In addition, Western State further invests in participating students by paying for the credits associated with the externship or by offering a cash stipend for students with otherwise unpaid internship opportunities.
Since 2015, the SHP has been able to support 147 students, several of whom were placed in highly competitive judicial externships or matched with non-profit, public interest organizations. This amounts to well over half a million dollars in financial support in the form of an internship stipend or externship school credits provided directly to participants.
This year, the program has over a dozen students participating and has helped them land judicial externships and earn placements at private law firms with specializations including employment law, family law and general civil litigation. Some of the students that we supported this year include:
Bridgett Gloudeman, who is working this summer as an extern at Rallo|Travieso, a law firm that specializes in family law and civil proceedings.
Monica Entezampour, who secured an opportunity at Wai & Connor, LLP in Irvine, Calif. where she will gain experience and insight into the world of workers' compensation, while growing her communication skills with attorneys who have mastered their legal passions.
Tori Enos, who is participating in a judicial externship with Judge Sherri Honer in the civil division of the Orange County Superior Court, where she is able to shadow a judge, observe court proceedings, conduct legal research and draft memorandums.
Jonathan Cipoletta, who is working as a judicial extern in the Orange County Superior Court under the mentorship of Judge Sherri Honer. After this opportunity, he is looking forward to diving into the inner workings of the civil division to gain even more hands-on experience.
Andrea Valencia, who received an internship opportunity with CARECEN under the mentorship of various attorneys where she will learn more about immigration law and gain hands-on experience working with clients and attorneys.
"I wanted to join the Western State Summer Honors Program to see how my 1L knowledge applied in the real world," stated Enos. "During my externship, I have been able to view all court documents from both parties and see those cases through trial. To date, viewing this process from filing to judgment has been the most beneficial because, regardless of whether I represent the plaintiff or defendant during practice, I will be familiar with the process and will have firsthand insight into considerations the court makes in its rulings."
The benefits of earning a spot in this program extend beyond the summer experience, since students are also often invited to attend exclusive events, thereby creating ongoing networking opportunities. To learn more about the Summer Honors Program or externship and internship opportunities, connect with our career resource team.