Four Tips To Manage Your Mental Health During Law School
Law school has a reputation for being demanding and cutthroat. Even more so, 96% of law students report experiencing "significant stress" according to research by the Dave Nee Foundation, an organization dedicated to eliminating the stigma associated with depression. While there is no denying that there will be demands and stress during your time in school, taking care of your mental health is critical to not only surviving but also thriving in law school. Here are some tips:
Use Your Resources
First, it is important to remember you are never alone. If you are feeling depressed, stressed or anxious, contact someone for help. Students at Western State can contact student services to be connected with third-party counselors. These personal and confidential psychological counseling services are available to all students at no additional charge. In addition, students can leverage a number of resources available by the American Bar Association. You don't need to be on the verge of a breakdown to tap into these tools. Connecting proactively can help prepare you to manage stress.
Tap Into Your Support System
Western State prides itself on being a cooperative versus a competitive environment. We have eliminated the forced grading curve, meaning students are competing only against themselves to earn their best mark, not their classmates. Therefore, we encourage peers to support one another as everyone is in the same boat. In addition, our small campus ensures our faculty, admissions and career support staff are available to answer questions. Outside of campus, it can also help to reach out to family and friends.
Set Appropriate Boundaries and Expectations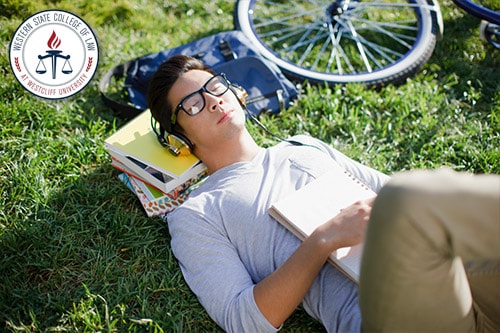 It is natural to feel the need to take every opportunity presented and ace every exam, however, putting this ongoing pressure on yourself can lead to burnout. Examine the opportunities presented as they come and choose the ones that make the most sense to help you reach your career goals. In addition, keep in mind the end goal if you score low on a quiz or end a semester with a lower mark than you wanted. Putting it into perspective can help you realize that one grade won't make or break your education.
Take Time for Yourself
It is not realistic to think every waking hour can be focused on studying. Build in time for breaks and to enjoy things outside of school. This might be as simple as watching a TV show, getting a workout in or spending time with family and friends. Find things that make you happy.
Law school is rigorous but remember you have already proven you have the skills to be successful through your efforts to get accepted into school. Therefore, when it becomes stressful or overwhelming, it is important to take it day by day and remind yourself of why you are excited about attending and what your end goal is after graduation. Taking care of your mental health during school is important to your success.