The legal profession, like every other industry, has been shaken by the COVID-19 pandemic. At the onset, many legal proceedings were paused, and law firms responded by reducing staff. However, as the world has started to open again and court hearings have been able to resume, a resurgence in hiring in certain legal fields and growth opportunities in various sectors are evolving trends.
Here are some of the key areas where there has been steady hiring since the pandemic that are expected to continue to grow:
Bankruptcy: Bankruptcy filings have been more active as people and businesses have been financially impacted by the pandemic. As small businesses were forced to close and individuals remained unemployed, their cases will continue to take up a larger percentage of the docket.
Family Law: After stay-at-home orders were enacted, divorce and domestic violence cases increased. They can be complex and ongoing, especially when children are involved, as custody, visitation and settlements are negotiated.
Housing: During the pandemic, a federal eviction moratorium was put into place to help ensure individuals and families could stay in their residences despite financial losses. However, when this moratorium lifts in the summer, there is expected to be an influx of eviction cases. Over the coming months there could be a rise in foreclosures as the long-term impact of financial losses is felt among struggling homeowners.
Employment Law: Because both the short- and long-term economic impacts of COVID-19 were unexpected, many businesses and/or employees have turned to the courts to settle employment claims.
Litigation Practice: Because many trials were postponed, law firms downsized at the start of the pandemic. However, as courts have started to re-open, they have had to fill the void quickly to be able to handle the increasing number of cases on the docket
2020 was certainly a momentous year with the presidential election, social movements and protests in the United States. This has led individuals and organizations to be more vocal in expressing their passions and calling for change. Therefore, we also expect to see continued growth in the focus on:
Election Law: This area gained a lot of attention recently as various states have made changes to their voting processes.
Public Interest: Growing social movements mean more work for the public interest law sectors. They will likely continue to hire to support efforts concerning gaps in the justice system, as well as supporting those in need.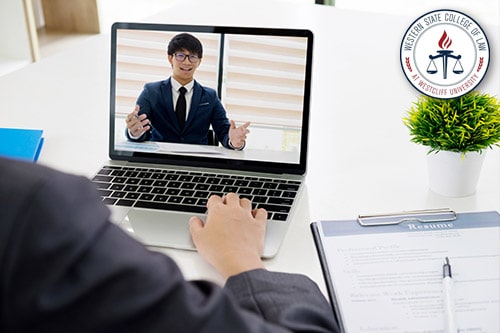 As the legal landscape has changed and we don't know where it will be 12 months from now, here are some tips for law school graduates preparing to enter the workforce.
Stay agile: While you might have entered law school with a specific passion or focus, be open to applying your skills in areas where there is more of a need for your talents. Taking on various opportunities can look good on your resume and highlight your diverse skills and experience as a future employee.
Be flexible: While a full-time position is ideal, remember that some law firms are looking for short-term or project-based support. Be open to accepting these opportunities as they can open the door for full-time work and also give you practical experience while you continue looking to land your dream job.
Prepare for a new type of interview: Even though some interviews are still virtual, prepare for them the same way you would for an in-person interview. This includes practicing for a Zoom interview by focusing on such things as looking at the camera and ensuring your outfit and background are professional.
Network: Even though law firms might not be hiring, continue to reach out to those you have connections with and build more personal ties with people at law firms you want to work for.
It is still hard to predict exactly where all the growth opportunities will be, but taking advantage of any opportunity presented to you can help provide the needed experience and open the doors for future jobs. Contact Career Services for more information, or for support in preparing your resume or getting ready for an interview.