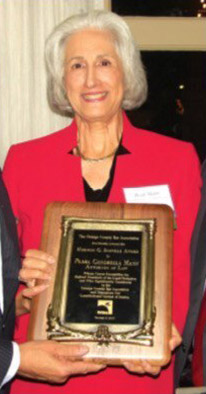 Pearl Gondrella Mann is a Western State College of Law graduate and one of the first female lawyers in Orange County admitted to the U.S. Supreme Court, U.S. Tax Court and all of California State Courts.
She started her career as a librarian with two master's degrees in Library Science and American Studies. Pearl was drawn to Western State for its inclusion of part-time programs, making the degree more accessible to more students, and the diversity of the student body, specifically the number of women enrolled. Mann found multiple communities, within the law school where she could equally give and receive support from other women.
After graduating from Western State, Mann went on to serve on several executive and leadership boards, including the Board of State Bar California, won awards for her public service efforts and continuously served the Orange County community.
Pearl Gondrella Mann is an accomplished and inspiring women figure in the legal professional landscape. She is a member of Western State's Hall of Fame, and one of only three recipients of the Hall of Fame's Lifetime Achievement Award. We are honored to count her among our many distinguished Western State College of Law graduates and an ideal individual to recognize in observation of International Women's Day.