Western State College of Law is proud to be recognized as the longest-running law school in Orange County, California. It was founded in 1966 and in its 50+ years has seen amazing changes and growth. It has a long track record of producing successful trial lawyers, top judges and legal officials. In 2019, it was acquired by Westcliff University, further opening the doors to provide amazing educational opportunities to its students. There are many aspects that set Western State apart and make it a highly desired school – but there is no doubt that its prime location in Southern California is one of them.
Orange County's Vibrant Legal Community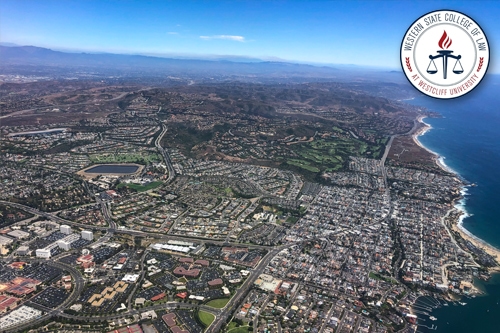 Orange County is the third most populated county in California, with over 3.1 million residents. According to the U.S. Census Bureau, it spans 948 square miles and has 34 incorporated cities. The sheer size and density of this county make it a prime location for the legal community. The State Bar of California currently shows over 17,500 active attorneys and 144 judges in Orange County. Not only is there a significant number of lawyers, but there are high-performing law offices. In fact, U.S. News and World Report lists 211 law firms in Irvine, California, where Western State is located, on its Best Law Firm list, with several of them earning national rankings.
These statistics underscore the booming legal industry and opportunities in this region. It has an abundance of tech companies, real estate, proximity to the entertainment and sports industries and corporate work. This is a key benefit of Western State's location as it provides students access to a variety of internship and externship opportunities. Not only does it open doors for our students to gain real-world experience during law school, but it also enables them to create meaningful connections in the community to help them find jobs after graduation.
Our location has allowed our school to create strong relationships with various law practices and public agencies. In addition, several alumni work locally and continue to give back to our school. Therefore, we are often able to bring in guest speakers to classes and as part of our student associations to help students learn more about the profession and access networking opportunities.
Diversity in the Region
Another key benefit of our location in Southern California is the diversity. Western State values diversity among our student body as we believe it enhances our students' perspectives and provides them a well-rounded worldview. Our location is extremely diverse with 34% identifying as Hispanic or Latino and 23.3% as Asian. Empowering students of diverse backgrounds to serve in communities of those that are similar to them is important and we are proud to play a role in helping create lawyers that make a difference.
Living in Orange County
Outside of just the legal aspect, Orange County has a lot to offer. The weather itself is a high-selling point as it is a temperate climate with very little rainfall. Over the course of a year, the temperature typically ranges from 45°F to 85°F. This paired with its average of 10.2 hours of sunshine per day and roughly 284 days of sunshine annually make it an idyllic place to live!
This is important as a recent Bloomberg Law survey found that 75% of student respondents reported increased law school-related anxiety, and over 50% experienced depression. Finding a place to study and live that makes you happy outside your time in the classroom can help you stay grounded.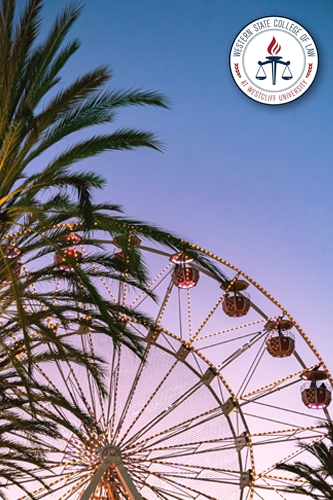 Our Irvine campus is close to major freeways, including the 405 and 5, making it easily accessible. It is also close to some key tourist attractions and locations. Western State positions you perfectly for accessing the best Southern California has to offer, from thrilling amusement parks to premier beaches, idyllic camping and hiking opportunities and exciting sports, music or theater entertainment:
Angel Stadium: 9 miles
Crystal Cove State Park: 13 miles
Disneyland: 12 miles
Fullerton Arboretum: 16 miles
Honda Center: 10 miles
Huntington Beach: 13 miles
John Wayne Airport: 2.5 miles
Knott's Berry Farm: 18 miles
Laguna Beach: 15 miles
Los Angeles: 38 miles
Los Angeles International Airport: 43 miles
Newport Pier: 10 miles
Orange County Museum of Art: 4 miles
San Diego: 87 miles
South Coast Plaza: 4 miles
South Coast Repertory: 4 miles
Exploring the Outdoors
Another perk of Orange County is the amazing outdoor activities and events. It isn't uncommon for individuals to surf in the morning and ski in the afternoon. The county's regional park system is comprised of 39,000 acres in 25 urban and wilderness parks. If you enjoy hiking, trail running, or sports like tennis, volleyball or the newly popular pickleball, you can access it in this region. Despite the rigors of law school, the Mental Health Foundation states that physical activity is not only good for your body, but also for your mind. The chemicals released in your brain during activity can help boost your self-esteem, improve concentration and help you sleep well and feel better.
Enjoying the Arts & Culture
It also has a unique arts and cultural scene, for those that are interested. Laguna Beach features a monthly art walk that celebrates the diverse cultural art scene of Laguna Beach. This includes Laguna Art Museum and several other local galleries for individuals to hop around to. Every summer, Laguna Beach also hosts its well-known Festival of the Arts which showcases over 140 Orange County artists and includes the world-famous Pageant of the Masters where actors stand in place to recreate famous artwork. Outside Laguna Beach, individuals can enjoy Orange County Museum of Contemporary Art and Orange County Center for Contemporary Art. There are also several music and performance venues – including the FivePoint Amphitheater and Segerstrom Center for the Arts. Or if sports is your thing, you can catch the Los Angeles Angels and the Anaheim Ducks.
Safe Place to Call Home
Irvine has had a long-standing reputation of being the "Safest City." Last year, it secured the spot for safest city of its size for Part I violent crime for the 17th consecutive year. This is important, as your home and neighborhood and the ability to feel safe can impact your personal happiness.
Considerations When Choosing Orange County
While there are many positives to living and learning in Orange County, it is also important to understand some of the realities.
Cost of Living: This is often a common concern and question when individuals explore living in Orange County. The cost of living in this region is 51% higher than the national average. But Western's proximity to major freeways and the airport makes it easily accessible, even if you choose to live outside this county. In fact, one of our current part-time students leveraged the proximity to John Wayne Airport and commuted to and from Nevada for law school.


In addition, we offer full-time and part-time programs to enable individuals who want to work while pursuing their JD the flexibility to do so. Lastly, we offer merit-based scholarships to eligible new and continuing students. While these scholarships can only be used to cover tuition, they can help students offset costs during their law school journey.
Practicing Post-Graduation: Going to law school in Southern California can be extremely appealing, especially for individuals from different states and countries. However, it is important to consider where you want to practice long-term when making the ultimate decision. As discussed earlier, networking is an important part of law school and therefore, many of our students tend to stay in the area after graduation because of job opportunities. If you don't plan to practice law long term in Orange County or California in general, you can still attend Western State, but it is important to work with our Career Development Department and Academic Success Program team to ensure you are prepared post-graduation. These resources can help connect you with internships and externships during law school, as well as support you during bar preparation for different states.
Orange County is booming. Being part of an amazing community with access to key attractions, a safe environment and beautiful weather all make it a desirable place to live. At Western State, our history in the community also allows our students to benefit from the thriving legal field. With over 12,000 alumni and our faculty's connections with law firms and publication organizations, students can enjoy not only a beautiful and diverse area but also can gain real-world experience and network with professionals to help them propel their career after graduation.