With the 2021 academic year upon us, not only are we transitioning back to in-person classes, but we also have just over 100 incoming 1L students joining the Western State family. While there is a lot of anticipation and excitement around starting law school, we know it can also be overwhelming. Even more importantly, the first year sets a precedent for the rest of your law school experience, including scholarships and internship opportunities. That's why we asked four alumni who graduated in 2018 to share their tips on what they wish they knew when they started at Western State.
Steve Alvarado is a prosecutor with the Torrance City Attorney's Office.
Melissa Padilla was hired at the Orange County Public Defender's Office and has been practicing as a criminal defense attorney for two years. She is currently assigned to juvenile delinquency.
Summer DeVore is an associate attorney at Stream Kim Hicks Wrage & Alfaro, P.C., focusing on complex business, real estate and municipal litigation.
Jack Rafter is a research attorney working with law schools and large firms for LexisNexis, the legal database.
Here is what they had to say:
1. Put yourself out there.
"On day one, it is important to put yourself out there and sell yourself to your professors, peers and anyone you encounter. Future externships and job opportunities can hinge on how you present yourself. People remember who participated and were articulate, so start right away!" – Steve
"Put yourself out there and compete. It is a lot of work, but you are going to law school to get a job in the end. The more you can add to your resume and set yourself apart, the better." – Melissa
2. Get involved.
"Join different clubs. I joined the Latina Student Organization and the Black Law Student Organization, which opened doors for many networking opportunities. I also participated in negotiation competitions, where we took first place one year. This allowed me to meet students from other schools and helped me become more rooted in my school while being a great resume booster." – Melissa
"Find a study group or partner. This is important for networking and branching out. You aren't going to a lecture hall of 500 because it's a smaller school with smaller classes. The resources and friends you make now will become your network. They can help you secure internships and build connections, and you don't know who they will be in five to 10 years. My classmates from law school are now my colleagues, and you never know what opportunities they can open up for you." -Steve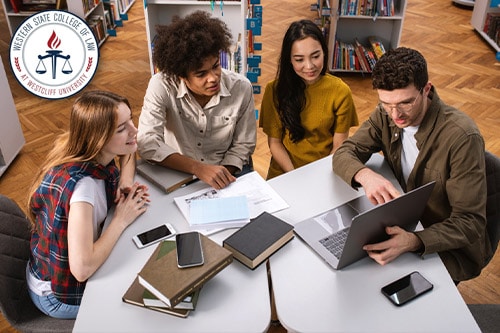 3. Build your network.
"Before starting, I had always been told how competitive and cutthroat law school was and how people would do just about anything to be at the top of the class. Imagine my surprise when I learned that this wasn't true at every law school. As a part-time evening student at Western State, I was placed in classes with the same cohort for at least the first two years of law school. These strangers became some of my closest friends. We all supported each other in and out of law school. We formed study groups, were available for questions, threw events for special occasions such as a baby shower, took the time to talk out a midterm or final exam and shared notes if someone missed class. Unlike the stories I had heard about law school, everyone I met at Western State was willing to help me succeed right along with them. Having been in practice for a few years, I have realized just how important the connections I made during law school are. Most of my cohort went into various practice areas, including public sector, family, criminal law and personal injury. I went into civil business litigation. These friendships have evolved into a referral source and have also made it easy to pick up the phone and call a colleague when I have a question in a particular area of law. I truly appreciated the camaraderie fostered at Western State and the friendships that were formed that have transcended beyond law school." – Summer
4. Find your balance.
"It's a marathon, not a sprint. You need to pace yourself. Law school is going to be overwhelming, life-consuming and extremely tough. You need to make time for yourself and learn what works best for you. If that means blocking out some time each day or one night a week to get you back to yourself or taking an hour each night to catch up on your shows – you should do it. You don't just need to survive law school, but you need to thrive after, so it's important to take time to take care of yourself." – John
"Balancing work, school, family, friends and finding time to study and prepare for classes was not always an easy task. But with that said, I also made sure to manage some 'off' time from law school. I tried to spend one night a week with family or friends or getting caught up on forgotten tasks around the house, such as laundry. This allowed me to carve out time for myself, which helped prevent burnout." – Summer
5. Embrace your journey.
"Take every piece of advice with a grain of salt. People will tell you how hard it is, how much you will have to read, how you can't sleep or have a life, the right way to brief a case, approach a professor, etc., but law school is the time to find what is right for you. There isn't only one way to be successful. Take the melting pot of advice and mold it into what will work for you." – Steve
"Do whatever works best for you. It's your law school career, and you know yourself better than anyone else knows you." – John
We hope that you find this advice helpful and we, at Western State, are here to support you along the way!