With 18 ABA approved law schools in California, and J.D. enrollment up to 114,520 students in 2021, compared to 112,882 in 2019, gaining a competitive edge is critical to helping you land your dream job post-graduation. The three years during which you attend law school set the foundation for opportunities after graduation. However, it is not just about earning high marks in the classroom, but also the experiences that stand out on your resume and set you apart from other candidates. So, while academics need to remain a priority, outside experiences can help you land your ideal job post-graduation
The benefits of real-world experiences
The classroom is focused on foundational material, covering various practice areas and developing analytical and writing skills. While Western State's curriculum includes coursework in key subject areas, gaining real-world experience provides an opportunity to apply your skills with real clients. In addition, these opportunities can help you further identify your passions and target the type of atmosphere in which you want to work. Beyond honing your personal skills, having real-world experience on your resume also demonstrates to future employers that you are prepared to jump right in.
Setting yourself up for success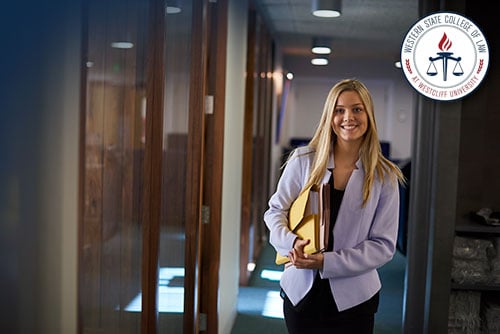 At Western State, the career development department encourages each student to participate in no less than four work experiences before graduation. Because these experiences are invaluable, it is critical that you don't wait to get started. It is recommended to connect with the career development department often, but here are some other year-by-year considerations to keep you on track:
1L: Set yourself up for success at the onset of your academic journey. This includes ensuring all of your social networking pages are employer appropriate. It is also important to dive right into networking by attending events or joining organizations to make connections and learn about upcoming opportunities. In addition, prepare your resume and set up an account on Symplicity, the career database. Once these are set up, continuously monitor and check for new employment and internship opportunities. Also, during your first year, it is important to look ahead and connect with professors early if you are considering an externship or clinic experience for years 2L or 3L.
2L: If you participated in any summer work experience, update your resume to highlight what you did along with relevant honors, activities, organizations, etc. It is important to check in regularly with career resources to review your resume and develop your career path. The career development department can help you decide if a certificate program is a good fit for you. During this year, you should continue to make connections by attending on- and off-campus events, as well as leveraging the career resources library, Symplicity and other job boards to identify summer work opportunities.
3L: Throughout your final year, ensure your resume is up to date with new work experiences, academic achievements, class rankings, positions in organizations, etc. You should also prepare a reference list and writing samples.
Types of experiences
There are multiple ways to gain real-world experiences and it is helpful to have a mix of these to showcase on your resume. Some opportunities include:
Internships and externships: Students can participate in internships and externships during the summer or school year. Internships are often paid opportunities, whereas externships are paired with a companion class to allow you to also earn law school credit.
Moot Court: If you are interested in appellate court, joining the competitive Moot Court team can help you gain practice developing briefs and participating in oral arguments.
Student organizations: Participating in an organization is not only a great opportunity to network, but in your 2L and 3L years you can also build your resume by holding a leadership role.
Volunteer opportunities: Public service is a foundational part of Western State's vision and identity. In fact, Western State's previous two graduating classes performed a total of 4,254 hours of public service during their law school tenure, 96% of which involved pro bono legal representation of clients.
Classroom experiences and academics are a primary focus in law school, but it's also important to think about your future. Real-world experiences can help you explore your passion and hone in on your skills, as well as set you apart among the competition when applying for your dream job.