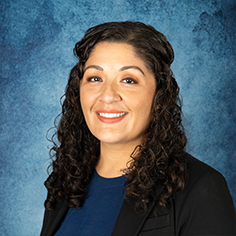 SABRINA RIVERA
Assistant Clinical Professor of Law & Director, Immigration and Deportation Defense Clinic
DEGREES
J.D., Loyola Law School Los Angeles
B.A., California State University, Dominguez Hills
COURSES
Law Clinic Seminar
Interviewing & Counseling
BIOGRAPHY
Professor Rivera is the Director of the Legal Clinic at Western State College of Law (WSCL) (to be launched in spring 2024). Throughout her professional career, Professor Rivera has been a passionate advocate for immigrant rights, dedicating her expertise and efforts to making a positive impact on the lives of immigrants. Sabrina's areas of specialization encompass a wide range of immigration law topics, including deportation defense, asylum and refugee law, and humanitarian relief programs.
Professor Rivera has held various roles within immigrant rights organizations, including serving as the inaugural executive director of the Orange County Justice Fund, a nonprofit that advocates for persons defending against deportation especially those without legal representation and the former supervising attorney at Central American Resource Center (CARECEN) where she directly represented college students and their families on their immigration cases and helped establish immigration legal services at eight California State University campuses throughout southern California. Professor Rivera also served as the former clinical staff attorney at WSCL's Immigration Clinic where she supervised law students on immigration cases and projects, including providing pro se legal assistance to detained immigrants at local OC jails through a partnership with Public Counsel. Professor Rivera previously served as an Adjunct Lecturer at UCI Law, Immigrant Rights Clinic, where she supervised law students on bond cases and community legal empowerment presentations with local grassroot organizations.
Professor Rivera believes in the transformative power of legal education. She believes that law schools are responsible for shaping future attorneys as zealous advocates for vulnerable and indigent communities by equipping them with the necessary tools, knowledge, and empathy to address the systemic challenges their clients face. Through WSCL's law clinic, Professor Rivera aims to inspire students to become zealous and compassionate advocates, empowering them to use their legal skills and privilege to create change and build a more just society.
Professor Rivera is also a speaker at local and national trainings, workshops, and conferences, including most recently at the Immigration Law Teachers & Scholars Workshop hosted at Loyola Law School Los Angeles in 2022 on the topic, Finding Sustainability While Starting, Transforming or Ending a Clinical Program. She is also the co-author of the report, The State of Immigration Enforcement and Legal Resources in Orange County published in May 2023 that was highlighted on various media outlets.
SELECTED CONFERENCE AND COMMUNITY PRESENTATIONS
Finding Sustainability While Starting, Transforming, or Ending a Clinical Program, Panelist, Immigration Law Teachers & Scholars Workshop, Loyola Law School, Los Angeles, CA, June 2022
DisOrientation Retreat (Online), Keynote Speaker, National Lawyers Guild-Los Angeles, October 2021
Interviewing Workshop for Law Students, Panelist, Hispanic National Bar Association, Troutman Sanders LLP, Irvine, CA, April 2019
Taking Back Our Narrative, Panelist, Fourth Annual National People of Color Legal Scholarship Conference, American University Washington College of Law, Washington D.C., March 2019
Rule of Law in the Trump Administration, Panelist, 20 th Anniversary Western Law Professors of Color/Conference of Asian Pacific American Law Professors Conference, UNLV School of Law, Las Vegas, NV, October 2018
Immigration Enforcement and DACA, Panelist, Pacific Coast Association of Pre-Law Advisors Conference, UCLA, Los Angeles, CA, June 2018
Naming Our Core Values When Teaching and Lawyering in a Time of Crisis, Speaker, Association of American Law Schools, Conference on Clinical Education, Chicago, IL, April 2018
Stand up, Fight Back! Advocating for Vulnerable Immigrant Populations Through Community Lawyering Under the Trump Administration, Panelist, Hispanic National Bar Association Annual Convention, Kansas City, MO, September 2017
SELECTED COMMUNITY WORKSHOPS AND TRAININGS
Roundtable Discussion on Immigration-Related Legal Empowerment Alternatives in Orange County (online), Speaker, April 2023
Immigration, Public Charge, and the Impact of COVID-19 (Online and in Spanish), Speaker, Promotoras de Salud de Orange County, CA, June 2022
Orange County Grantmakers Annual Summit (Online), "Home is Here: Justice, Solidarity, and Belonging for Immigrants" Panelist, Orange County, CA, October 2021
Immigration Changes & the Impact on Clients (Online), Presenter, Department of Social Work, California State University, Long Beach, CA, September 2020
Central American Migration: A Legal Perspective, Panelist, California State University Long Beach, CA, September 2019
Public Charge and Immigration Law, Panelist, Public Charge Presentation hosted by various county-wide nonprofit organizations, Dehli Center, Santa Ana, CA, December 2018
Inadmissibility/Deportability and Relief Introduction, Speaker, World Relief Immigration Law Training, Irvine CA, January 2018
U Visa Certification Challenges, Panelist, ASISTA County-Wide Training for legal service providers and attorneys, Anaheim, CA, February 2017