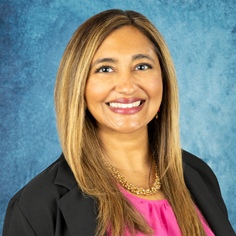 TANIA SHAH
Director of the Academic Success Program and Associate Professor of Law
714.459.1150
tshah@wsulaw.edu
DEGREES
J.D., Boston University School of Law- Boston, MA
B.S., Environmental Economics, University of California, Berkeley
B.A., Rhetoric, University of California, Berkeley
COURSES
Introduction to Legal Methods
Basic Bar Studies
AREAS OF EXPERTISE
Entrepreneurship
Corporate Law
BIOGRAPHY
Professor Shah hold her Juris Doctor from Boston University School of Law, her Bachelor of Science from U.C. Berkeley from College of Natural Sciences, and her Bachelors of Arts from U.C. Berkeley in Rhetoric. Professor Shah was the Graduation Commencement Speaker for the U.C. Berkeley College of Natural Sciences.
Professor Shah has published 4 books with the national legal publisher, Aspen Publishing, and will be publishing her fifth book on the bar exam in February of 2021 with the same publishers. Professor Shah's company, LawTutors, LLC, has also published fifteen additional books on the bar exam and on teaching for first year (1L) law courses.
Professor Shah is also a corporate lawyer where she practices business law and publishes a popular blog called "The Law According to Shah". In her capacity as a corporate lawyer and owner of LawTutors, LLC, Professor Shah was included in the "Top 100 Attorneys of 2020."
Prof. Shah has served as law lecturer, adjunct faculty member, and professor of law and has taught classes in  has taught classes in Contracts, Torts, Criminal Law, Criminal Procedure, Constitutional Law, Evidence, Business Associations, Professional Responsibility, Property, Civil Procedure. Professor Shah has developed specific curriculum for bar exam courses and first year academic skills courses.
Professor Shah also teaches for Seize Every Opportunity-Law, a not-for-profit institution offer scholarship, training and tutor for law students of color entering in the top-ten law schools.