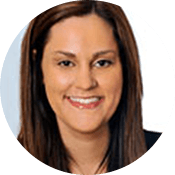 MICHELLE BIRTJA
Class of 2011
Michelle Birtja is a Senior Counsel at Wood, Smith, Henning, and Berman, LLP, specializing primarily in the field of medical malpractice defense. Prior to joining the firm, Michelle was associated with an Orange County law firm, where she represented plaintiffs in medical malpractice lawsuits.
Michelle attended Western State University College of Law, graduating with an Exemplary Public Service Award and a Criminal Law Justice Center Award in 2011. While at Western, Michelle was chosen to be part of the Year One Honors Program (reserved for students in the top 10% of their class) and she received the Witkin Award for Excellence (the highest grade) in Criminal Procedure. During law school she was a judicial extern for the Honorable Joseph F. De Vanon and a certified law clerk for the Los Angeles County District Attorney's Office, where she adjudicated a misdemeanor jury trial and over twenty-five preliminary hearings. She was a member of the Federalist Society and the Criminal Law Society.
"The practical/hands on teaching approach used at Western, allowed me to step out into the legal field ready to hit the ground running. Western provided a multitude of opportunities to gain realistic experience while still in law school, making the transition from being a student to a practicing lawyer easier."
Michelle was admitted to the California Bar in December 2011.