Summary of Return to In Person Instruction Plan

The following briefly summarizes the main points of the attached "Return to Campus Policy/Protocols:
Vaccination required: All faculty (including adjunct faculty), staff and students will be required to show proof of full vaccination (two shots of Pfizer or Moderna, or one shot of the Johnson & Johnson vaccine) upon return to campus, unless exempt from the vaccination requirement.
Exemption: Anyone subject to the above vaccine requirement may apply for an exemption from the requirement based on medical, religious, or personal reasons. The online application for exemption can be found here. When one or more of the currently available vaccines receives full approval from the FDA, exemptions from the vaccine requirement will only be granted for medical or religious reasons.
Weekly negative COVID test for those claiming exemption from vaccination: Faculty, staff and students who claim exemption from the vaccination requirement must provide proof when entering the campus of a negative COVID-19 test taken within the last week.
COVID protocol questions: All faculty, staff and students, whether vaccinated or not, must answer a set of COVID-19 protocol questions upon entry to the campus.
Smartphone App: Proof of vaccination or of a current negative COVID test, along with answers to the COVID protocol questions, can be shown via a smartphone app that will allow for speedy entrance to the campus by showing the open app on the smartphone to campus security. Instructions on downloading the app and uploading proof of vaccination or COVID testing can be obtained from Student Services.
Mask wearing and social distancing: All individuals on campus must adhere to social distancing and wear masks in or out of class, except when alone in a private office or study space.
Visitors: Visitors to the campus will be required to undergo a temperature check and answer the COVID protocol questions, and adhere to all other COVID protocols, except vaccination and COVID testing requirements.
Symptoms, positive tests or exposure: Anyone experiencing COVID-19 symptoms, testing positive, or who may have been exposed to others with the virus must report this information immediately to the Senior Assistant Dean for Student Services and follow CDC guidelines for isolation or quarantine. If a student is required to isolate or quarantine arrangements will be made for the student to attend classes via Zoom for the duration of the mandated isolation or quarantine.
No fully online option: It will not be possible for a student to enroll for a semester in exclusively online classes.
Future changes: This policy is subject to change should future developments in the pandemic warrant change.
Violations: Violations of this policy by a student will subject the student to charges under the Honor Code. Violations of this policy by faculty or staff will subject the violator to appropriate administrative sanctions.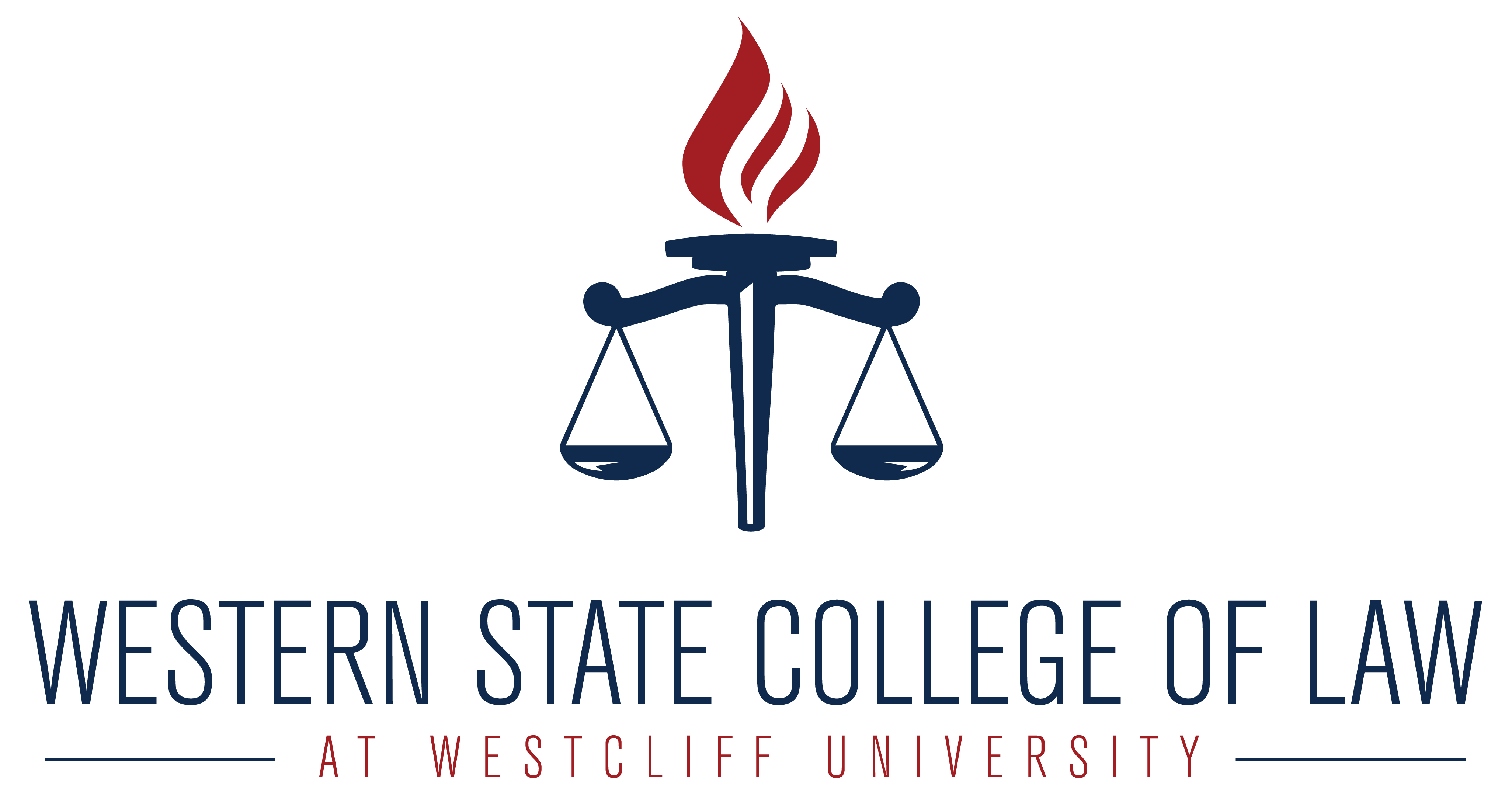 Founded in 1966, Western State College of Law is the oldest law school in Orange County, Southern California, and is fully ABA approved. Western State College of Law's 11,000+ alumni are well represented across public and private sector legal practice areas, including 150 California judges and about 15% of Orange County's Deputy Public Defenders and District Attorneys.
Programs, credential levels, technology and scheduling options are subject to change. Western State College of Law at Westcliff University, 16715 Von Karman, #100, Irvine, CA 92606 © 2020 Western State College of Law. All rights reserved. Our email address is materialsreview@wsulaw.edu.
See wsuprograms.info for program duration, tuition, fees and other costs, median debt, salary data, alumni success, and other important info.